Barron's Recap: Puerto Rico In Trouble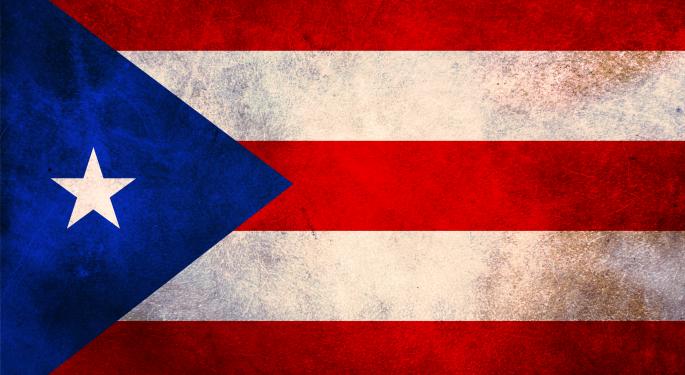 This weekend in Barron's online: credit risk in Puerto Rican bonds, a special feature on the top independent financial advisors, and the prospects for Peabody Energy, Take Two Interactive and Microsoft.
Cover Story
"Troubling Winds" by Andrew Bary.
Puerto Rico's huge debt could be an even bigger problem than Detroit's, says Barron's in this week's issue. Bond investors should beware, because this onerous debt could overwhelm attempts to resuscitate the U.S. territory's persistently struggling economy.
The article points out that Puerto Rico has nearly $70 billion of total debt, and more than $30 billion of unfunded pension liabilities. Among U.S. states, only California and New York would rank higher in total debt. Puerto Rico's debt per capita is 10 times the average of the 50 states.
"There's a debt spiral in Puerto Rico that will not turn out well unless there is a dramatic turnaround in the economy," one expert is quoted as saying. However, Puerto Rico has been in recession since 2006. Its unemployment rate is 13.2%, and more than one in four residents receive food stamps.
The article goes on to show the steps the territory has taken to reverse course economically, and it points out some key differences between Puerto Rico and Detroit. It also discusses what is at stake for American investors of municipal bonds, or mutual funds heavily invested in them.
See the likelihood that the federal government would step in to aid Puerto Rico if it sought financial help. See what might prompt downgrades in the credit ratings of Puerto Rico's general-obligation bonds. And see whether Barron's thinks the tempting yields on Puerto Rico debt are enough to compensate for the risk.
Special Feature: Top Independents
"The Indie 100" by Steve Garmhausen presents Barron's exclusive list of the nation's top independent financial advisors. The bull market this year has been a boon to these independent financial advisors and to their clients, says the article.
Steve Garmhausen's "Let's Look at the Alternatives" suggests that bonds are unlikely to offer the same lift to returns that they did following the financial crisis. See where investors can you find a new boost for their portfolios.
In "A Focus That's on You," Steve Garmhausen takes a look at the growing practice of "goals-based" investing. This approach focuses on progress toward a client's goals for the future rather than on beating benchmarks.
See also: Apple's Groundbreaking Patent, Ballmer's Retirement And More From The Fourth Week Of August
Feature Stories
As the supply-and-demand equation in coal improves, says Jacqueline Doherty's "Re-Energizing Peabody," the industry's future looks bright. This is particularly true for Peabody Energy (NYSE: BTU), the largest private-sector coal miner.
"Game On at Take Two" by Jack Hough suggests that next month's launch of Grand Theft Auto V could be Take Two Interactive Software's (NASDAQ: TTWO) biggest hit yet. See why the shares of this videogame maker could rise 30%.
In Andrew Bary's "Exit, Ballmer," see how the shares of Microsoft (NASDAQ: MSFT) could prosper once CEO Steve Ballmer's turbulent 13-year reign comes to an end, ushering in a new shareholder-friendly era.
Eric Uhlfelder's "Zen and Small Stocks" is a profile of Mariko Gordon of Daruma Capital Management. She appreciates what it takes to succeed at business. See why Gordon thinks medical device maker Insulet (NASDAQ: POD) can rise another 25% or more.
The CEO spotlight is turned on Shantanu Narayen in "The Man Behind the Turnaround at Adobe" by Alexander Eule. Narayen reshaped Adobe Systems (NASDAQ: ADBE), helping to nearly double its stock price in two years.
"Bullish on the U.S., and Bullish on ETFs" by Richard Rescigno features an interview with David Kotok of Cumberland Advisors. Kotok thinks the S&P 500 can keep climbing and uses ETFs for equities. Also, see why he recommends buying municipal bonds.
"A 50-Year-Old Question" is an editorial commentary by Thomas G. Donlan that asks whether we know the techniques that will abolish poverty.
Columns
Columns in this weekend's Barron's discuss:
Whether the Nasdaq freeze was a crisis
Whether concerns about a monetary-stimulus cutback are overblown
Zillow's (NASDAQ: Z) shares may look pricey
How online education is reshaping higher education
The surge in part-time labor since the recession
Cable vs. Internet TV
Alternatives to hedge funds
Slumps in the performance of conservative ETFs
Tracking the Williams Companies (NYSE: WMB) dividend
See also: You'll Never Believe That America's Favorite Coffee Is This Brand
At the time of this writing, the author had no position in the mentioned equities.
Posted-In: adobe systems Barron's Insulet Microsoft Peabody Energy Puerto Rico take two interactive softwareMedia Best of Benzinga
View Comments and Join the Discussion!