Barron's Recap: Beware Falling Profit Estimates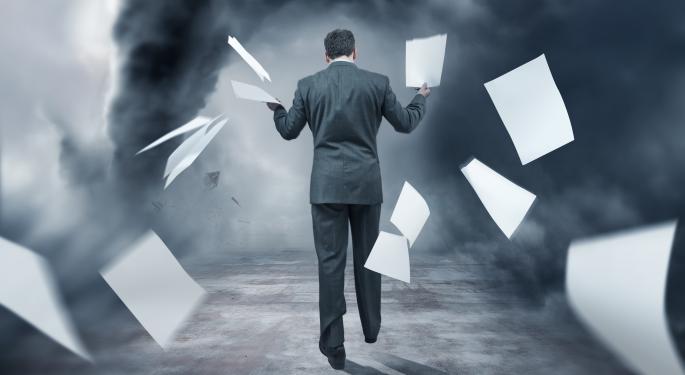 This weekend in Barron's online: how to dodge the earnings downdraft, who replaces China as the world's low-cost producer, the prospects for International Speedway, Live Nation Entertainment and Grupo Televisa.
Cover Story
"Beware Falling Profit Estimates" by Jack Hough.
U.S. companies delivered only ho-hum results for the second quarter and estimates for the current quarter are tumbling, says Barron's. While that does not mean the market will crash, it does mean that stocks are not as cheap as they may appear.
The article suggests that cautious investors should avoid sectors in which near-term estimate cuts are more likely, such as consumer discretionary and telecom. For example, expectations for department stores and restaurants seem too high.
Instead, investors should favor safer sectors, like technology and health care, where earnings gains appear reasonable relative to revenue growth. Barron's offers five stocks that look attractive, including Pfizer (NYSE: PFE) and Qualcomm (NASDAQ: QCOM), as well as three stocks to avoid, including Lennar (NYSE: LEN).
A sector road map is included that shows the recent earnings and revenue performance by sector, as well as estimates for the rest of the year and 2014. And the article includes a table with growth estimates, free cash yields and all the pertinent numbers for the eight stocks featured.
See why Barron's thinks the market's long bull run is not yet over. And see how to reduce risk by picking and holding companies with reasonable valuations. While this market is more richly valued than investors might think, opportunities do still exist.
Feature Stories
"International Speedway Is Off to the Races" by Reshma Kapadia suggests that investors should start their engines, because International Speedway (NASDAQ: ISCA) will receive a boost from NASCAR's latest broadcasting deals.
See also: CEO Of International Speedway Outlines Daytona Rising
Jonathan R. Laing's "China's Pain Is Kenya's Gain" makes the case that China will be replaced as the world's low-cost producer by successors in Africa, Southeast Asia and Latin America. Samsung and Microsoft (NASDAQ: MSFT) already have moved into Ethiopia.
In "It's Time to Take Profits on This Pair," David Englander suggests that after hefty gains, neither online foreign-exchange broker FXCM (NYSE: FXCM) nor Live Nation Entertainment (NYSE: LYV) looks inexpensive anymore.
Mexican media company Grupo Televisa (NYSE: TV), a global power in Spanish-language TV melodramas, offers a lot to investors. This includes a big stake in Univision, according to Sandra Ward's "A Terrific Story of Its Own."
"A Top Advisor Blows the Whistle on the Game" by Alexander Eule offers best advice on conflicts of interest, estate planning and promising investments from Steve Lockshin of Convergent Wealth, who is publishing his first book, Get Wise to Your Advisor, next week.
In Andrew Bary's "The Return of the 5% Muni Bond," the suggestion is that the recent selloff in the bond market has left municipal bonds at very attractive levels. See how to find yields equivalent to eight percent on taxable bonds.
J.R. Brandstrader's "A Growth Manager Looks for Value" is a profile of Aziz Hamzaogullari, who has turned around the struggling Loomis Sayles Growth fund. One key to that effort was looking for growth amid big discounts to intrinsic value.
Mark Boyar, the founder of Boyar Asset Management, is interviewed in "How to Buy Dollar Bills for 50 Cents" by Andrew Bary. See why Boyar sees value in Weight Watchers (NYSE: WTW), Bank of New York (NYSE: BK) and Molson Coors and (NYSE: TAP).
"Free the Airlines" is an editorial commentary by Thomas G. Donlan that suggests it is time to regulate the price, quantity and power of antitrust lawyers.
Columns
Columns in this weekend's Barron's discuss:
How possibility of less quantitative easing affects the market
Headwinds for emerging-market nations
A new strategy for improving economic growth
Intel's (NASDAQ: INTC) new, more efficient microprocessor
A website using big-data analytics to automate financial research
Sizing up waterproof gadgets
Mutual fund managers using exchange traded funds
Whether Inverse ETFs will damage the health of the market
The Bugatti Veyron 16.4 Grand Sport Vitesse
The cost of avoiding the eurozone crisis
See also: What Do Stock Traders Fear The Most?
View Comments and Join the Discussion!
Posted-In: Bank of New York Barron's fxcm Grupo Televisa Intel international speedway lennarMedia Best of Benzinga