Barron's Recap (3/16/13): A New Way to Play Emerging Markets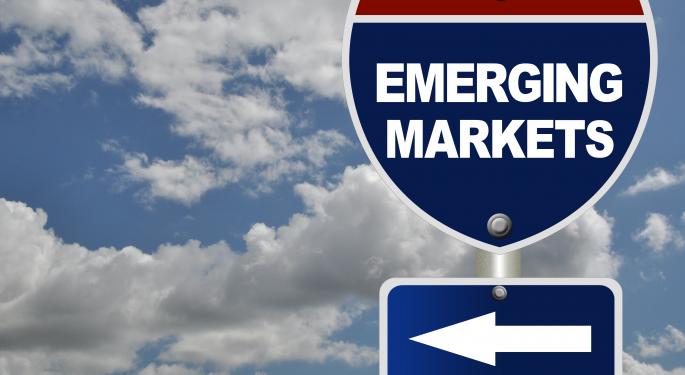 This weekend in Barron's online: a more sophisticated strategy for investing in emerging markets, an ETF special report, and the prospects for The Pantry and Globe Specialty Metals.
Cover Story
"Emerging Markets: The Next Wave" by Reshma Kapadia.
A more complicated global economy calls for a more sophisticated strategy for investing in emerging markets, says the article. Gone are the days when all it took to make money was to buy the index or a fund that did not stray far from it.
The broad indexes that track emerging markets favor the largest companies. But those companies often are state-run, which mean sometimes they are managed more for political gain than for economic gain. In addition, they are also frequently export-oriented rather than focused on local demand.
MSCI Emerging Markets Index, which focuses on Brazil, Russia, India and China is two percent lower over the past year. However, the MSCI Frontier Markets Index, which includes Pakistan, Kenya and Vietnam, is up by nine percent.
But the results are even better when focusing on where local consumer markets are thriving. The MSCI Philippines Index is up 39 percent in the past year, while the Nigeria index is 70 percent higher.
The article has plenty of advice for focusing on consumer-oriented sectors, the frontier markets, cheaper markets, dividend payers, as well as bonds. It also includes a list of funds that are capitalizing on today's big themes in emerging markets.
Feature Stories
In "Don't Stop Believin'" by Brendan Conway, Barron's gathered some of the ETF industry's top executives to discover whether exchanged traded funds can continue to deliver, even though they face several challenges ahead. This is the first part of the ETF special report.
Chris Dieterich's "Solutions in Search of a Problem" suggests that, in launching 19 new ETFs this year alone, fund firms are just "throwing mud against the wall to see what sticks." That is, they are rolling out increasing numbers of niche products, hoping to appeal to lots of investors.
"BofA, Wells Top Fed's Approval List" says that, following the Federal Reserve's annual stress tests of America's largest financial institutions, Bank of America (NYSE: BAC) and Wells Fargo (NYSE: WFC), and their shareholders, may have benefited most.
Municipal bonds rallied as fears of default waned, says Jack Hough in "New Threat to Municipal Bonds: Lower State Taxes." But tax cuts could reduce prices by around five percent in states like Kansas, Louisiana, Oklahoma, Nebraska, and North Carolina.
In David Englander's "Fill 'Er Up," convenience-store operator The Pantry (NASDAQ: PTRY) is featured as a potential buying opportunity for patient investors as the company works to boost profitability in both its fuel and merchandise operations.
"Trapped in Silicon's Valley" by Sandra Ward says that a hoped-for rebound in the solar-power market may have buoyed shares of silicon maker Globe Specialty Metals (NASDAQ: GSM), but those hopes likely will not be realized anytime soon.
J. R. Brandstrader's "Kansas City Chief" is a profile of Zach Shafran, portfolio manager of the Ivy Science & Technology Fund. The fund now owns stakes in more than 54 companies, including iPhone maker Apple (NASDAQ: AAPL) and Samsung Electronics, which must launched its latest "iPhone killer."
Artists James Turrell and Olafur Eliasson, and collectors such as Donald Hess and Victor Pinchuk, are featured in Penta article "Bright Light, Big Money" by Charles Darwent. Major "light art" has been drawing crowds.
In Alexander Eule's "It's All in the Details," Theresa Chacopulos, a top financial advisor with Wells Fargo (NYSE: WFC) shares how she keeps her clients up to date on everything from options strategies to gun laws.
"Fishing for Fraud" is an editorial commentary by Thomas G. Donlan in which he suggests that, though the Securities and Exchange Commission has exposed pension and bond fraud in Illinois, fiscal problems still remain.
Columns
Columns in this weekend's Barron's discuss:
Endorsements by actresses and former Fed chairmen
Why the economy may be weaker than reported
Whether Zoetis (NYSE: ZTS) is overvalued
Now to spot the next Apple (NASDAQ: AAPL)
Disappointments with the Samsung's Galaxy S4
Why the GOP will cave on a budget deal
A study of fund companies serving as trustees of 401(k) plans
Why the deficit cannot be denied
The General Mills (NYSE: GIS) dividend hike
Who runs the show in government insurance
Posted-In: Apple Bank of America Barron's General Mills globe specialty metals MicronBarron's Media Best of Benzinga
View Comments and Join the Discussion!