Barron's Recap (12/29/12): The End of Cash?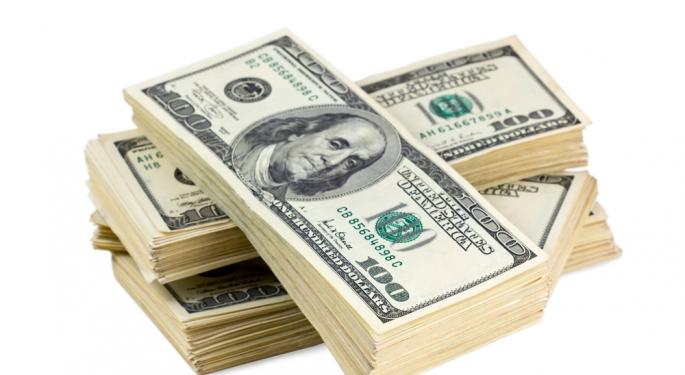 This weekend in Barron's online: the move toward a cashless society, the fiscal cliff, investing strategies for January and Barron's 12th annual forecasting challenge.
Cover Story
"The End of Cash?" by Alexander Eule.
While the amount of cash in circulation is on the rise -- a record three billion hundred-dollar bills were printed last year -- fewer and fewer Americans are using it for retail transactions. Just 29 percent of U.S. retail payments were made with cash, down from 36 percent a decade ago. Many merchants, including Apple (NASDAQ: AAPL) and Nordstrom (NYSE: JWN), are chucking out conventional cash registers in favor of hand-held devices. Online retailers do not take cash at all.
Some forecasts suggest that 30 years from now, only 10 percent of retail purchases will be made with cash, mostly by poorer Americans without bank accounts and by people who want to make their purchases anonymously.
Companies that benefit from this move away from cash include payment networks Visa (NYSE: V) and MasterCard (NYSE: MA), as well as others that offer digital wallets, such as eBay (NASDAQ: EBAY) and Google (NASDAQ: GOOG). Upgrades to the infrastructure for making payments will benefit VeriFone Systems (NYSE: PAY).
There are security and political implications to this trend as well. See the article for all the details.
Feature Stories
"Cheer Up! The Cliff Doesn't Look So Grim" by Gene Epstein suggests that, despite all the fuss, the so-called fiscal cliff is really more like a gentle slope. And the likely outcome is a mild recession in 2013, or maybe no recession at all.
In "The Grand Delay," Jim McTague takes a look at the clever new ways that Congress and the White House find to put off calamity now that the fiscal cliff has arrived. Washington's policy makers will continue to do what they do best: procrastinate.
Andrew Bary's "Winning with Losers" explains how the strategy of embracing the previous year's 10 worst S&P 500 stocks and looking for rebounds in January has produced generous gains in the past three years.
Improving public safety in times of disaster has helped boost Motorola Solutions (NYSE: MSI), says "Motorola Responds to an Emergency Call" by Leslie P. Norton. See why the stock may rise another 15 percent or more.
In Reshma Kapadia's "Itaú Unibanco Could Lead Brazil's Recovery," Brazil's largest private-sector lender is the focus. The bank has been hit hard by the nation's economic troubles, but the headwinds it has faced are set to turn into tailwinds.
Think you can predict what is ahead in the markets, the economy and politics? Andrew Bary's "Calling All Seers" offers you a chance to prove it in Barron's 12th annual forecasting challenge. Win a Barron's subscription and lunch with the author in Manhattan.
"Recalibrating the Watt" by Erin E. Arvedlund is a profile of Jeffrey Bersh and Michael Wartell. The co-founders of hedge fund Venor Capital Management discuss why they like merchant-energy plays and middle-market liquidations.
Leslie P. Norton's "Economic Statecraft: How to Play It, and Win" features an interview with Eurasia Group founder Ian Bremmer, who suggests that corporations should pay more attention to governments, not economics.
In "The Reverse January Effect," Jack Hough offers a reason to buy Apple (NASDAQ: AAPL) unrelated to the recent sell off, and also says Ross Stores (NASDAQ: ROST), Dollar Tree (NASDAQ: DLTR) and National Oilwell Varco (NYSE: NOV) also look attractive now.
"The Maestro of Macy's" by Dyan Machan turns the CEO spotlight on Terry Lundgren, who knows what it is like to have doubters. But he has defied the skeptics to lift Macy's (NYSE: M) revenue, profit and market share.
"A Year for Living Dangerously" is an editorial commentary by Thomas G. Donlan in which he says that, with today's monetary policy, the United States may never recover.
Columns
Columns in this weekend's Barron's discuss:
Contrarian takes on the fiscal crisis
Discrepancies in the 2012 performance of indexes
Buying while Apple shares are cheap
Predicting dividend payouts in 2013
A look at GoPro video cameras
The prospects for equity hedge funds in the new year
Three ETF trends to watch
How Barron's 2012 small cap picks fared
A cautionary view of the the prospects for Europe
Posted-In: Apple Barron's Dollar Tree EBAY GoogleMedia Trading Ideas General Best of Benzinga
View Comments and Join the Discussion!