Barron's Recap (10/27/12): The Big Money Poll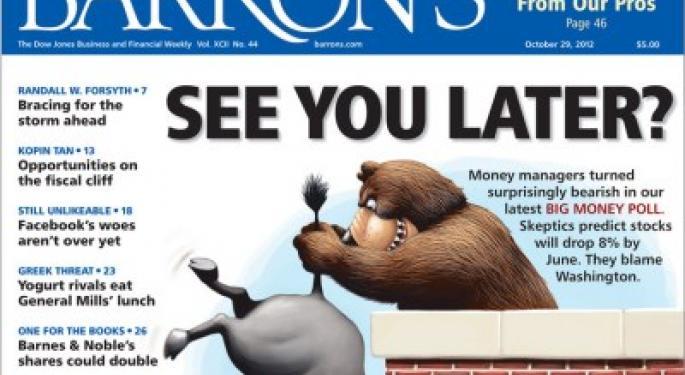 This past weekend in Barron's online: the results of the autumn Big Money Poll, the prospects for General Mills, Hyster-Yale Materials Handling and Barnes & Noble, as well as what President Obama does and does not know about American business.
Cover Story
"Bye-Bye Bull?" by Jacqueline Doherty.
After three years of attractive returns for U.S. stocks, the optimism of money managers surveyed by Barron's is waning. Less than half of the respondents describe themselves as bullish or very bullish about the market's potential through June of next year. They see Obama winning the presidential election, but think Romney would be better for stocks. Corporate earnings growth is slowing, and there are the threat of defaults in Europe and war in the Middle East. And the so-called fiscal cliff is fast approaching. In this environment, respondents favor General Electric (NYSE: GE), IBM (NYSE: IBM), J.P. Morgan (NYSE: JPM) and Microsoft (NASDAQ: MSFT), but not Facebook (NASDAQ: FB) and Salesforce.com (NASDAQ: CRM) or Sears Holdings (NASDAQ: SHLD). Barron's Big Money survey is published twice a year in the spring and fall. The latest poll drew responses from 131 institutional investors from across the country, representing both smaller firms and giant asset managers.
Feature Stories
"On General Mills' Plate: Three-Sided Food Fight" by Leslie P. Norton takes a look at food titan General Mills (NYSE: GIS) as it battles with competitors in Greek yogurt, cereal and soup. Earnings could suffer if the company has to spend more heavily to protect its leading position.
In "An Uplifting Story," David Englander points out that forklift-maker Hyster-Yale Materials Handling (NYSE: HY) is a recent spinoff with little Wall Street coverage but with a 25 percent share of the U.S. market. Its stock could rise 25 percent in 18 months.
Andrew Bary's "The Underestimated Anti-Amazon" says that former powerhouse, Barnes & Noble (NYSE: BKS), has become a hidden gem, with 64 percent of retail shelf space for books, growing same-store sales and a quarter of the e-book market.
"I am a staunch advocate of Warren Buffett's principle that you stay within one's circle of competence," says RBC Global Asset Management's Hanif Mamdani in "Stellar Performer" by Eric Uhlfelder. Mamdani oversees RBC's Absolute Return Fund.
In "Picks and Pans from the Pros" by Lauren R. Rublin, investment experts at Barron's eighth annual Art of Successful Investing conference share their best advice on what to buy, what to avoid and how to seek value in any market.
"Making the Most of the Fear Factor" by Jack Hough takes a look at four stocks that offer value plays in spite of investor worries, even as market indexes have soared: American International Group (NYSE: AIG), Ingram Micro (NYSE: IM), ManTech International (NASDAQ: MANT) and Valero Energy (NYSE: VLO).
In Alexander Eule's "This Ain't Peanuts!" Marty Halbfinger of UBS (NYSE: UBS), who serves as the firm's go-to guy for families with a collective $3.3 billion in assets, explains why he has cut bond allocations nearly in half.
Big companies blast President Obama on everything from the rules to his grasp of what they do, says John Marshall's "Cheap Excuses from Big Business." But are the gripes legitimate, or are they nothing more than excuses used to cover up the deficiencies and shortcomings of business leadership?
In "Corporate Cash Cows: The 'New Sovereigns'?" by Richard C. Morais, Rockefeller Financial's David Harris explains why cash-rich multinationals are a sign of global growth and a unique historical period, not a signal of weakness and a lack of ideas.
"Recruiting Entrepreneurs" is an editorial commentary by Thomas G. Donlan that suggests that fear of foreigners holds back the economy of the United States.
Columns
Columns in this weekend's Barron's discuss:
Whether the fiscal cliff will sober up politicians
Likely fiscal cliff scenarios
The Pentagon's contribution to GDP
Voter disgust with inaction in Washington
Intuit's (NASDAQ: INTU) Quicken goes mobile
What to expect from iPad mini sales
A day trader's dream ETF
Why the S&P is thrashing hedge funds
Shareholder-friendly companies in Russia
Posted-In: AIG American International Group Apple Barnes & Noble Barron's Big Money poll FacebookMedia Best of Benzinga
View Comments and Join the Discussion!