Barron's Recap (10/20/12): Technology Outlook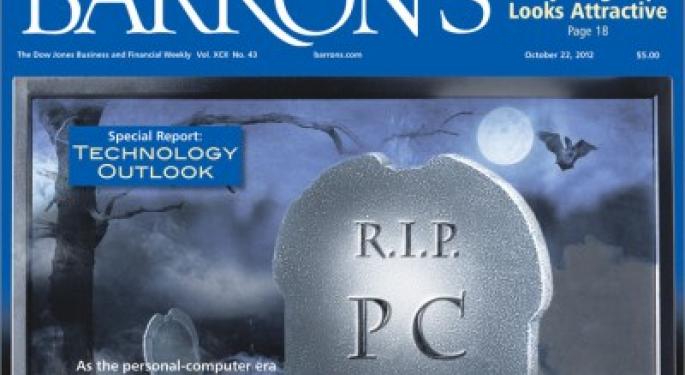 This past weekend in Barron's online: who benefits as the PC era wanes, the prospects for Annie's, Texas Industries and National Oilwell Varco, as well as four rising dividend plays.
Cover Story
"Bye-Bye PCs" by Tiernan Ray.
As the personal computer era wanes, this week's cover story says, Dell (NASDAQ: DELL) and Hewlett-Packard (NYSE: HPQ) will fade from view, while tablets, smartphones and big data drive Apple (NASDAQ: AAPL), Google (NASDAQ: GOOG) and EMC (NYSE: EMC). Not only do smartphones and tablets now do almost all of the day-to-day tasks a PC does -- including sending e-mail and surfing the Web -- but massive data centers that can marshal tremendous computing power are upending the traditional network and pushing information-processing into the palm of the hand. Last week's earnings reports from Microsoft (NASDAQ: MSFT) and chip makers Intel (NASDAQ: INTC) and Advanced Micro Devices (NYSE: AMD) made that clear. In this new era, cloud computing could benefit Amazon.com (NASDAQ: AMZN), and Salesforce.com (NYSE: CRM) and nimble companies like Seagate Technology (NASDAQ: STX) may make the transition successfully. Furthermore, some expect that after the presidential election and progress is made on tax policy, we could see increased share buybacks and higher dividends, as well as mergers and acquisitions, in the sector.
Feature Stories
"Quick Like a Bunny" by Andrew Bary takes a look at organic snack and pasta maker Annie's (NYSE: BNNY), shares of which have doubled since their March IPO. But Annie's is the most richly valued stock in the food sector, and if earnings growth falters, the stock could fall 30 percent or more.
In "Building on Housing's Rousing Rebound," Sandra Ward points out that last week's evidence that the housing rebound is gaining strength should be good news for Texas Industries (NYSE: TXI), the last pure-play cement maker in the United States.
Jack Hough's "Where to Find Dividends That Grow" says that stocks with fat yields often come with problems. A smarter way to get nice income is to buy shares with modest but rising payouts, such as the four good bets featured in this article.
As the world's exploration for oil and gas gets more aggressive, says "Sitting on a Gusher of Opportunity" by Christopher C. Williams, National Oilwell Varco (NYSE: NOV) is poised to grow rapidly in the next couple of years.
"Influential Fund Design" by Sarah Max is a profile of Marc Egan, portfolio manager of Scout Core Plus Bond Fund. He and his team scour the fixed-income universe for bargains, but have no qualms about making dramatic, sometimes contrarian, changes to the portfolio.
In "Vindication for a Contrarian Vision," Lawrence C. Strauss interviews Michael Hasenstab, portfolio manager of the Templeton Global Bond Fund for 11 years. Though focusing on unpopular debt and currency markets hurt the fund in 2011, the bets are paying off nicely this year.
In Jonathan Buck's "Master Brewer Buys a Round," the CEO spotlight is turned on Graham Mackay of SABMiller, who has overseen $30 billion of acquisitions. Today, SABMiller is the world's second-largest beer maker after Anheuser-Busch InBev (NYSE: BUD).
"Swifter Sailing Creates Value" by John Steele Gordon is an essay on the history of business that begins: "It is not necessity that is the mother of invention, it is profit." Gordon is the author of An Empire of Wealth: The Epic History of American Economic Power.
"Booby Prize" is an editorial commentary by Thomas G. Donlan that says the European Union is part of Europe's problem.
Columns
Columns in this weekend's Barron's discuss:
What readings of investor sentiment really show
What is coming from telecom stocks
Bad third-quarter results from Intel, Google and Microsoft
What to bet on as China's economy bottoms out
Nestle vs. Starbucks (NASDAQ: SBUX) in single-cup makers
Obama and Romney on thwarting competition from China
Corporate America facing a "regulatory cliff"
Target-date funds in retirement plans
The fiscal cliff and exchange-traded funds
The proliferation of special dividends
Online Exclusives
This weekend's Barron's online exclusives include:
"FactSet CEO's $9.6 Million Sale" by Grace L. Williams. From October 11 through 15, Chairman and CEO Philip A. Hadley sold more than 102,000 shares of FactSet Research (NYSE: FDS) for more than $9.6 million, an average of $93.79 each. Hadley now holds almost 860,000 FactSet shares, a 1.9% stake, down from his previous 2.1% stake. This was his first open-market transaction in more than two years. A spokesperson for FactSet told Barron's that the sale was "purely a matter of tax planning for Phil."
View Comments and Join the Discussion!
Posted-In: Advanced Micro Devices Amazon.com Anheuser-Busch InBev Annie's Apple Barron's DELLMedia Best of Benzinga