Barron's Recap (10/13/12): Almost There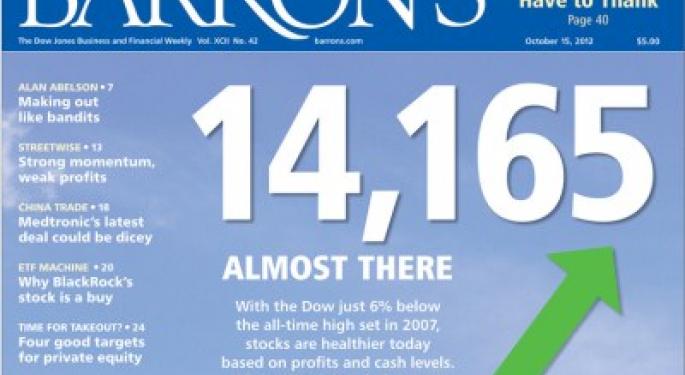 This past weekend in Barron's online: the Dow Jones Industrial Average approaches its record high, preparing for the costs of long-term care, the prospects for CarMax, BlackRock, Realogy and Encore Capital Group, as well as Romney's path to victory.
Cover Story
"Almost There" by Andrew Bary.
The Dow Jones Industrial Average is within striking distance of an all-time high, and Barron's takes a look at how it could get there and what comes next. At its recent high, the Dow was up 11 percent year to date and within four percent of its peak of 14,164.53, reached back in October of 2007. This growth comes despite concerns about economic weakness in Europe, China and the United States. The main drivers of that growth include top performers such as Home Depot (NYSE: HD), IBM (NYSE: IBM), Walmart (NYSE: WMT) and McDonald's (NYSE: MCD). But after last week's decline, the index is now about six percent away from its high. It may be too much to expect the Dow to reach a new high this year, but it could easily happen in early 2013. Investors can play the index through the SPDR Dow Jones Industrial Average (NYSE: DIA) exchange-traded fund, which now trades for about $133.
Featured Stories
"Retirement: How to Pay for Long-Term Care" by Carolyn T. Geer offers strategies for one of the biggest challenges facing today's retirees: how to afford an extended stay in a nursing home or assisted-living facility. A long-term-care insurance policy is not the answer for everyone.
In "The Price Is Right," Alexander Eule points out that used-car giant CarMax (NYSE: KMX) is a highly disciplined retailer in a business known for playing fast and loose. He also shares why the rebound in new-car sales is a good thing for growth.
Lawrence C. Strauss's "Solid as a Rock" says that clients love BlackRock (NYSE: BLK), the world's largest investment manager. But other investors could come around, as well, as the firm's profits rise and its exchange-traded fund business grows.
Private-equity firms are awash with cash, says "How to Shop Like a Private-Equity Player" by Jack Hough. Much of that cash will have to be spent soon or given back to investors, which would mean forgoing fees. The article offers four stocks they might find attractive.
"Is Realogy Through the Roof?" by Andrew Bary takes a look at Realogy (NYSE: RLGY), a franchiser of real-estate agents that offers a play on a housing recovery. However, after its red-hot IPO, the company's shares look rather pricey.
J. R. Brandstrader's "The Compleat Investor" profiles MFS Growth fund manager, Erich Fischman, who shares why he likes Apple (NASDAQ: AAPL), Google (NASDAQ: GOOG), Visa (NYSE: V), News Corp. (NASDAQ: NWSA) and others.
In "Wall Street Sage Sees Reasons for Cheer," Lawrence C. Strauss interviews Wall Street veteran Byron Wien, currently with Blackstone Advisory Partners, who shares his global outlook, including his reasons for optimism about the U.S. economy and emerging markets.
An analysis by a savvy demographer points to the states Romney is likely to win, in Jim McTague's "If Romney Wins, Here's Who He'll Have to Thank." Sizing up population growth in key GOP states, Romney's path to victory is revealed.
In Alexander Eule's "Backing Off from Bonds," Raj Sharma of Merrill Lynch sees a generational opportunity in emerging-market stocks. Furthermore, he calls portfolio rebalancing "the last free lunch on Wall Street."
"And Now for an Encore" by Jack Willoughby says more onerous regulation of debt collectors likely will force many small operators to leave the business. Encore Capital Group (NASDAQ: ECPG), a cost-conscious California firm, could clean up.
"A Duet of Error" is an editorial commentary by Thomas G. Donlan that says both presidential candidates, Obama and Romney, have the wrong approach to trade with China.
Columns
Columns in this weekend's Barron's discuss:
The wishy-washy market trend
The clash of weak corporate earnings with strong momentum
Prospects for Layne Christensen (NASDAQ: LAYN)
The PollTracker political app
Where to find free checking and lower personal-banking costs
Stock fund risks and geography
The latest unemployment rate drop
Posted-In: Apple applied materials ASML Holding Barron's Blackrock CarmaxBarron's Media Best of Benzinga
View Comments and Join the Discussion!