Barron's Recap (10/6/12): Out of the Storm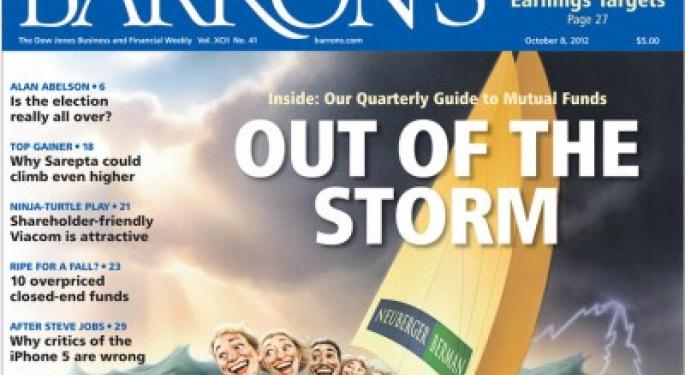 This past weekend in Barron's online: a profile of fund manager Neuberger Berman, the prospects for Viacom, Brink's and closed-end funds, and takeaways from last week's presidential debate.
Cover Story
"Fair Winds Ahead" by Michael Santoli.
Asset manager Neuberger Berman was tied to Lehman Brothers when the investment bank foundered and failed in the 2008 financial crisis. Neuberger's leaders ultimately had to improvise an employee buyout during the most punishing financing environment in memory. Four years later though, Neuberger is freshly invigorated. Its business is in sturdy condition, its fund performance is outpacing most peers and its strong investment culture has been affirmed. Neuberger is now one of the largest employee-owned asset managers, but in some ways it is much closer to the firm that founding partner Roy Neuberger ran than it has been in years, with its focus squarely on its client base, and not on the demands of a parent company or public shareholders. It had a reported $1.1 billion in revenue last year and $261 million in profit, and it continues to expand. But Chief Executive George Walker insists that he is not looking to go public or to sell the firm.
Feature Stories
"Viacom's Latest Cable Hit: 'The Big Payout'" by Leslie P. Norton suggests that Viacom (NASDAQ: VIAB) investors can tune in a hefty dividend and buybacks as is its Nickelodeon rearranges the network's fall schedule to try to wrest the top ratings spot back from Disney (NYSE: DIS).
In "Follow the Money," David Englander examines the prospects of Brink's (NYSE: BCO), the security company that is restructuring operations and expanding overseas. As the company's profit margins rise, the share price should head higher.
Jacqueline Doherty's "No Free Lunch in Closed-End Funds" points out that yield-chasing investors have pushed up the prices of closed-end funds, leaving many trading at rich to exorbitant premiums to net asset value. See why this party will not end well.
A key study of the effectiveness of an Exact Sciences (NASDAQ: EXAS) test aimed at early detection of one form of cancer is nearing completion, says "A Better Test for Colon Cancer?" by Andrew Bary. If the test works, the company's shares should grow healthier.
"Reasonable Expectations, Reasonable Prices" by Jack Hough predicts that Cisco Systems (NASDAQ: CSCO), Walmart (NYSE: WMT), U.S. Bancorp (NYSE: USB) and CVS Caremark (NYSE: CVS) should be just fine when analysts soon begin lowering their over-inflated earnings estimates for 2013.
Dyan Machan's "A Match Made in Heaven" turns the CEO spotlight on Greg Blatt, a deal-savvy chief executive who is leading IAC/InterActiveCorp's (NASDAQ: IACI) transformation. Blatt is heir to Barry Diller, IAC's founder, and CEO until 2010.
In Steve Deutsch's "A Matter of Trust," collective investment trusts are the focus. They fly under the regulatory radar, but skimpy oversight and a lack of disclosure could harm pension-plan investors.
"The Not-So-Great Debate" is an editorial commentary by Thomas G. Donlan that says people got blurred snapshots of the president and his challenger in last week's match up.
Columns
Columns in this weekend's Barron's discuss:
Romney's chances to win after last week's debate
The specific risks and opportunities in picking stocks in October
Why criticism of Apple (NASDAQ: AAPL) will not hurt the stock
A new movement that uses gadgets to measure every aspect of health
How presidential contenders play the tax game
How real the drop in the unemployment rate is
The forecast for dividends in the fourth quarter and beyond
Consumer confidence in some developing markets
Online Exclusives
This weekend's Barron's online exclusives include:
"Constellation Shining Bright" by Teresa Rivas. Shares of Constellation Brands (NYSE: STZ) rose to an all-time high Friday morning as investors cheered the wine and spirits company's fiscal second-quarter results. Despite the new highs, the stock still changes hands at about 13.3 times forward earnings, and its long-term earnings-growth rate of 10.5% is well ahead of the industry average of 7.1%. It appears that the good times should continue.
"The Implications of a New Smaller Apple Tablet" by Susquehanna Financial. The expected launch later this month of the latest version of the iPad is likely to put a crimp on rival tablet offerings from Microsoft (NASDAQ: MSFT) and Google (NASDAQ: GOOG). But the launch is seen as a positive for Broadcom (BRCM). Up to 15 million iPad minis are forecast to be built in calendar fourth quarter.
Posted-In: Apple Barron's Brink's broadcom Cisco Systems Constellation Brands cvs caremarkMedia Best of Benzinga
View Comments and Join the Discussion!