Barron's Recap (9/8/12): Home Prices Headed Up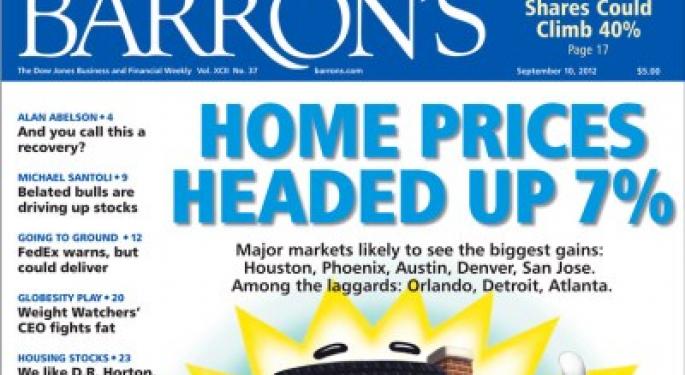 This weekend in Barron's online: a rebound in the housing markets, the prospects for Tesoro, Kyocera and Southwest Airlines, and a review of the Oliver Stone film Arbitrage.
Cover Story
"Happy at Last" by Jonathan R. Laing.
After a six-year decline that wiped out some $7 trillion in household wealth, brutalized bank balance sheets, and caused the Great Recession and the listless recovery, home prices are starting to look up in most areas of the country. Some forecasters anticipate home-price increases of around 10% nationally over the next three years. This article discusses why the rebound is for real, despite obstacles such as the so-called shadow inventory of residences that are in foreclosure or would be in an ordinary market, as well as the 13 million homeowners who are under water, meaning that their mortgages are greater than the value of their homes. The article also examines what's next for the top 50 U.S. housing markets. Some of the biggest jumps in housing prices are expected in oil-and-gas boom towns such as Houston, Midland, Texas, and Bismarck, North Dakota. Other markets expected show the most growth over the next three years include Phoenix, Denver and San Francisco, while places like Atlanta, Milwaukee and Detroit continue to struggle.
Feature Stories
"Tesoro Strikes Gold in California" by Andrew Bary suggests that Wall Street has started to appreciate the gritty appeal of West Coast oil refiner Tesoro (NYSE: TSO), which reached a deal last month to purchase a large California refinery from BP (NYSE: BP) for $1.175 billion.
In "Fulfilling His Mission," Neil A. Martin says President Tetsuo Kuba of Kyocera (NYSE: KYO) has fulfilled a vow he made three years ago, when the Kyoto-based tech company was reeling, to make it stronger and bigger. Leading bulls now predict at least 30 percent more upside in its stock.
Dyan Machan's "Fighting Fat and Winning" turns the CEO spotlight on Weight Watchers (NYSE: WTW) CEO David Kirchhoff. He is both the boss and a client of the weight-management concern, and he supports New York Mayor Bloomberg's ban on supersized sodas.
Home builders' shares have been on a tear says "Raise High the Roof Beam, Carpenters" by Christopher C. Williams. History suggests more gains are likely as the U.S. housing market recovers. The article takes a look at the prospects for homebuilders D.R. Horton (NYSE: DHI) and Lennar (NYSE: LEN).
In "Top Stock Picks as Mid-Cap Rally Hits Middle Age," Lawrence C. Strauss interviews T. Rowe Price (NASDAQ: TROW) managers David Wallack and Heather McPherson about why they like Southwest Airlines (NYSE: LUV), NRG Energy (NYSE: NRG) and Fidelity National Financial (NYSE: FNF).
"Room to Grow" by J. R. Brandstrader is a profile of Jim Boothe, manager of the Nuveen Santa Barbara Dividend Growth fund. He seeks companies that pay a hefty dividend or will soon. "I want companies that are not only growing their earnings, but also growing their dividends," he says.
Martin Fridson's "Wall Street Meets Hollywood -- Greed Ensues " is a review of the new Oliver Stone film, Arbitrage, a thriller in which a wealthy hedge-fund manager played by Richard Gere illegally covers up a $400 million loss and cheats on his long-suffering wife, played by Susan Sarandon.
"Whose Pants Are on Fire?" is an editorial commentary by Thomas G. Donlan on when fact-checking trivializes political discourse.
Columns
Columns in this weekend's Barron's discuss:
The significance of the disappointing jobs numbers
The remarkable but shaky market recovery
Uncertainty as Intel (NASDAQ: INTC) holds its convention
Speculation over whether BlackRock (NYSE: BLK) will cut ETF fees
International-fund managers' muted response to the ECB bond-buying program
Emerging markets Mexico, Indonesia, South Korea and Turkey -- or MIST
The Democratic Party platform and taxes
Online Exclusives
This weekend's Barron's online exclusives include:
"Why Kroger Looks Appetizing" by Dimitra Defotis. The share price of grocery store chain has seen little movement over the past year, but the pessimism may be overdone. Kroger (NYSE: KR) said customer loyalty programs helped boost second-quarter sales and profit, despite rising costs. Earnings per share exceeded analyst expectations, and Kroger raised its full-year guidance for earnings. It has been buying back shares while increasing its dividend. Bulls think the stock could rise more than 30 percent.
Posted-In: Barron's Blackrock bp D.R. Horton Intel KrogerBarron's Media Best of Benzinga
View Comments and Join the Discussion!