Ex-Undercover Amazon Fresh Driver: 'Much More Lurking' Behind The Scenes For Grocery Delivery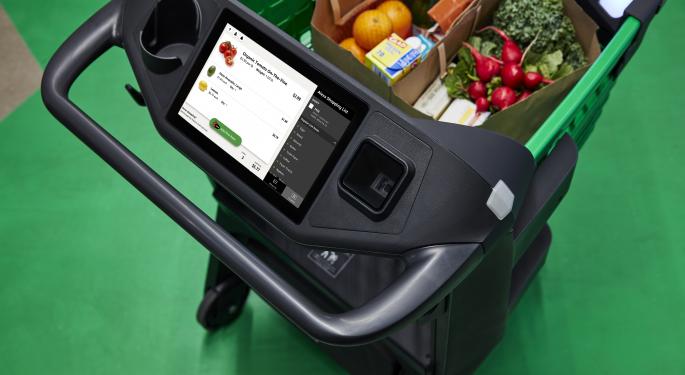 Matt Newberg, the founder of the food website HNGRY, posed as a driver for Amazon.com, Inc. (NASDAQ: AMZN) and wrote in a guest post for Grocery Dive that there is "much more lurking" behind the scenes at Amazon.
What Happened: Amazon appears to have a strategy for its grocery ambitions above and beyond what it's letting on, Newberg said.
To better gather evidence for his thesis, Newberg said he went undercover as a Flex contractor and delivered groceries from Amazon's Fresh stores.
Newberg observed he delivered orders from Fresh stores to customers that live within 1.5 miles of a store. A typical order was fulfilled and delivered in less than 1 hour, he said.
Related Link: Whole Foods Launches 1-Hour Pickup: How It Compares To Amazon's Grocery Rivals
This could be by design, as Amazon is interested in locations within "the literal last mile" of valuable households in major Prime-dense areas, he said.
These Prime customers are more likely to increase their purchase frequency, and Amazon benefits from an estimated cost of 50 cents per bag in delivery fees, Newberg said.
Why It's Important: Amazon goes as far as estimating trunk capacity for each car and optimizes the number of trips a driver can complete before it needs to return back to a store for replenishment, the report said.
Encouragingly, Amazon pays its Fresh drivers an estimated 68% premium versus other delivery platforms, Newberg said.
What's Next: Amazon's expansion to physical retail stores over the years implies consumers can shift from in-store discovery followed by repeat purchases through the online app, according to the Grocery Dive post.
"Whereas Prime shoppers don't usually think about the warehouse where their household items come from, Amazon wants consumers to know that it's nearby in order to build a lasting relationship that doesn't care how often you go into the store, so long as you're loyal across channels."
Photo courtesy of Amazon.
View Comments and Join the Discussion!
Posted-In: Amazon Grocery food Grocery Grocery Dive HNGRY Matt NewbergMedia Best of Benzinga