Ex-Walmart Exec Isn't 'Skeptical,' But Questions Retailer's Digital Strategy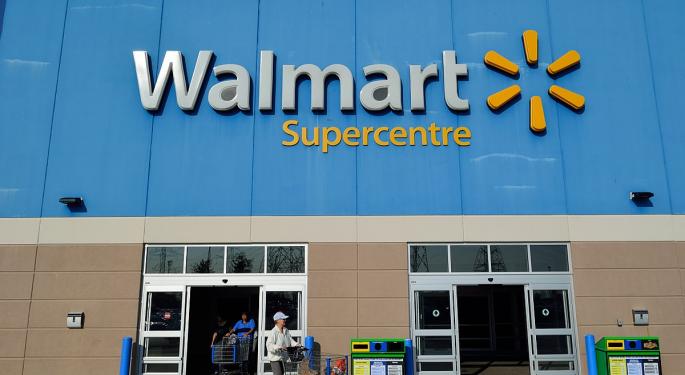 Ahead of retail giant Walmart Inc (NYSE: WMT)'s annual investor day presentation, ex-Walmart U.S. CEO Bill Simon laid out some questions that might be on investor's minds.
Walmart Is A Different Company Today
Simon departed Walmart in 2014, and much has changed at the corporate level, the executive told CNBC's Becky Quick Wednesday morning. Most recently, the company paid to acquire a money-losing operation in India's Flipkart and sold its profitable UK supermarket business Asda. Flipkart's ongoing losses and the foregoing of Asda's profit implies the company is "going all in" in digital initiatives, Simon said.
Investors shouldn't necessarily be "skeptical" of Walmart's strategy, but a good question for management to answer is "where does this end?" the former CEO said. Walmart's 2015 operating income was $29 billion; its most recent full-year operating income totaled $20 billion. But accounting for the Flipkart and Asda transactions and assuming all else remains equal, its full-year operating income will now fall to the high-teens range.
Related Link: Morgan Stanley Weighs How Flipkart Changes Walmart's Global Stand Against Amazon
Walmart Isn't Amazon
Critics of Amazon.com, Inc. (NASDAQ: AMZN) are quick to point out the company's strategy of allocated profit from its web services business to gain market share in the "completely unrelated" retail business to "drive out competitors and build market share," Simon said. What Amazon is doing would be akin to Exxon Mobil Corporation (NYSE: XOM) using its profit from the oil business to finance a restaurant chain with the purpose of gaining market share, he said.
Walmart has never been guilty of doing the same, having built its business organically over the decades, Simon said. Walmart went out "head to head, knuckle to knuckle" and fairly won market share by executing on a business model that customers wanted, he said.
Fair Comparison?
It may not be fair to compare Walmart to Amazon, as the companies have different revenue structures, as Statista highlighted in an infographic. Walmart's e-commerce sales in 2017 totaled $14.01 billion as opposed to Amazon's $52.8 billion.
You will find more infographics at Statista.
Related Link: Munster: Amazon Leads In Automated Retail, A $50B Opportunity
Public domain photo via Wikimedia.
View Comments and Join the Discussion!
Posted-In: Asda AWS Bill Simon CNBC ecommerce Flipkart retailMedia Best of Benzinga