Barron's Picks And Pans: Best CEOs, Altice USA, Micron Technology And More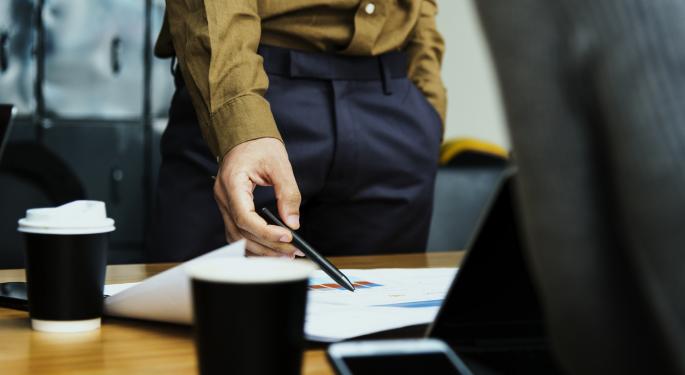 This weekend's Barron's cover story spotlights Barron's 14th annual list of the world's best CEOs.
Other featured articles offer beneficiaries of the AI revolution and results of a screen for safe dividend stocks.
Also, the prospects for a European telecom subsidiary, a Hong Kong conglomerate and retailers.
"World's Best CEOs: 30 Leaders With Talent to Spare," the cover story this week, indicates that two themes stood out in Barron's 14th annual list of the world's best chief executive officers: they were cloud savvy and made smart acquisitions. See how Bezos, Zuckerberg, Dimon and many others fared. Companion articles focus on growth leaders, turnaround experts, readers' picks and more.
Tiernan Ray's "AI Technology Revolution Is Just Getting Started" examines why artificial intelligence is more than a buzzword and developments in the technology will mean strong demand not just for the likes of Micron Technology, Inc. (NASDAQ: MU), but also for chip makers that are just starting up or those that are yet to be founded.
In "Altice's U.S. Spinoff Looks Like a Winning Bet," Bill Alpert points out that this European telecom and cable company is selling more shares of its U.S. unit, Altice USA, Inc. (NYSE: ATUS), as its prospects appear to be brightening. Find out why Barron's believes the bulls think this stock could rise as much as 50 percent.
A screen of the S&P 500 for high yields, solid cash flows, good payout ratios and durable balance sheets resulted in the likes of Kraft Heinz Co (NASDAQ: KHC) and Johnson & Johnson (NYSE: JNJ), according to "A Dozen Safe and Solid Dividend Stocks" by Lawrence C. Strauss. See which other defensive picks made the list.
See Also: Analyst: Additional Model 3 Production Shutdowns Would Be Negative For Tesla Stock
In Andrew Bary's "Li Ka-shing's Flagship Is Looking Like a Bargain," see why Hong Kong-traded global conglomerate CK Hutchison now appears to have a low valuation, in the wake of Hong Kong business magnate Li Ka-shing passing the reins of the empire to his son. And find out what effect that might have on Alibaba Group Holding Ltd (NYSE: BABA).
"Retail's Next Surprise" by Ben Levisohn suggests that when it comes to retailer earnings, it's as if the whole world has been turned upside down. More than 20 retailers and retail brands reported their quarterly results, prompting massive moves in some of these stocks. See what that means for Target Corporation (NYSE: TGT) and others.
Also in this week's Barron's:
The real danger for stocks
Playing the oil rally ahead of a key OPEC meeting
Small-cap ETFs that are chalking up big returns
Why gold has fallen in a geopolitically tense world
Best bets in the emerging markets deluge
Why to expect more bank mergers after Dodd-Frank rollback
View Comments and Join the Discussion!
Posted-In: Alibaba Altice USA Barron's CK Hutchison Johnson & Johnson Kraft Heinz Micron TechnologyMedia Best of Benzinga