Here's Why Whole Foods' CEO Feels 'A Bit Like Houdini'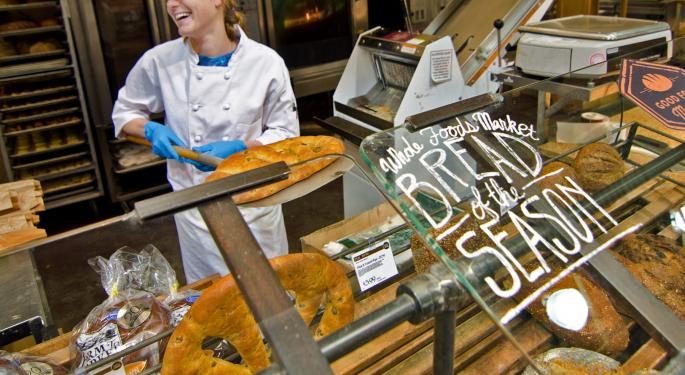 For many years customers referred to Whole Foods as "Whole Paycheck," as the organic and natural grocer's prices were notably higher than traditional grocery retailers like Kroger Co (NYSE: KR) or Wal-Mart Stores Inc (NYSE: WMT).
But that nickname no longer applies after Amazon.com, Inc. (NASDAQ: AMZN) acquired the grocery chain and immediately instituted price cuts on many items, Food Business News reported. In fact, Whole Foods' CEO and co-founder John Mackey himself acknowledged that part of the reason to merge with Amazon was to remove a reputation of high prices.
"Whole Foods was in a trap, and I couldn't quite figure how to get out of that trap," the executive was quoted as saying at the SNAC International's annual Executive Leadership Forum. "The trap was 'whole paycheck.' Amazon has a different narrative. Now we've embraced its narrative and so 'whole paycheck' disappeared. We escaped the trap. I feel a little bit like Houdini."
Perhaps few even noticed that Whole Foods' management team stayed silent about price changes immediately following the Amazon acquisition, Food Business News noted. But they didn't need to announce price cuts as the media, pundits, analysts and other third parties were very quick to call an end to the "Whole Paycheck" era.
So what's next for the grocery chain now that it's controlled by Amazon?
"You know the old saying, 'I could tell you, but then I'd have to kill you,' Mackey said. "I can tell you, but Amazon would have to kill me. We're going to do some cool stuff, and I can't talk about anything that hasn't been made public already."
Related Links:
The Whole Foods Deal: Three Factors Limiting Amazon's Power
Beginning To Understand The Whole Foods' Pricing Dynamic
Photo courtesy of Whole Foods Market.
Posted-In: Grocery Whole Foods Whole PaycheckMedia Best of Benzinga
View Comments and Join the Discussion!