How Harvard Lost $150 Million To Yale: Blackstone Group CEO Explains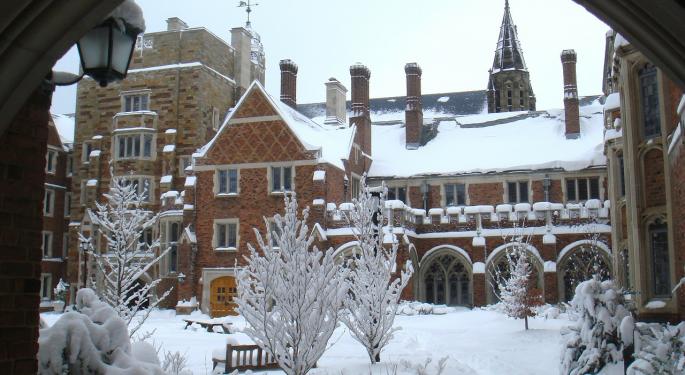 CEO and co-founder of Blackstone Group LP (NYSE: BX) Stephen Schwarzman recently announced that he will be donating $150 million for a student center at his alma mater, Yale University.
Schwarzman was on Bloomberg to discuss why he is donating to Yale and to talk about his other philanthropic activities.
Why Yale?
"Well, I went to Yale," Schwarzman said. "And when I showed up, I was a pretty naive kid from a public high school outside of Philadelphia.
"And I knew no one at Yale; I mean, literally no one. They had 8,000 people there – 4,000 undergraduates, 4,000 graduates, plus faculty, plus administration. And I had never been in a large place where I knew absolutely no one."
Related Link: Yale Sets Up Shop In Asia
The Learning
Schwarzman was asked if he feels indebted for the experience he had at Yale. He replied, "Well, more than indebted."
He explained, "I learned all kinds of important things in terms of change values, giving back, service to your community, to your country."
Tradition Matters
On how he learned all of those important things while at Yale, Schwarzman said, "Yale had that tradition. And I was raised in a place just like a normal high school kid. I wasn't aware that was, in effect, an obligation for people who have done well.
"And so I internalized that, and it also helped teach to me how to think and changed the course of my life."
Related Link: S-3 From Harvard Biosciences Shows Registration For $50 Million Mixed-Securities Shelf Offerin
Harvard's Loss
Schwarzman also revealed that his first choice was Harvard, and not Yale, at the time of applying for his higher education. When he couldn't get in Harvard, he dialed the dean of admissions at Harvard to persuade him to consider his application.
However, the biggest revelation from Schwarzman was that a few years ago he received a correspondence from the same dean of admissions who rejected him. The letter was from the dean; he wrote "saying, 'I guess we got that one wrong,'" Schwarzman recollects.

Image Credit: Public Domain
View Comments and Join the Discussion!
Posted-In: Bloomberg Harvard Stephen Schwarzman YaleMedia Best of Benzinga