Option Traders Make Big Bullish Bets On AMD, Texas Instruments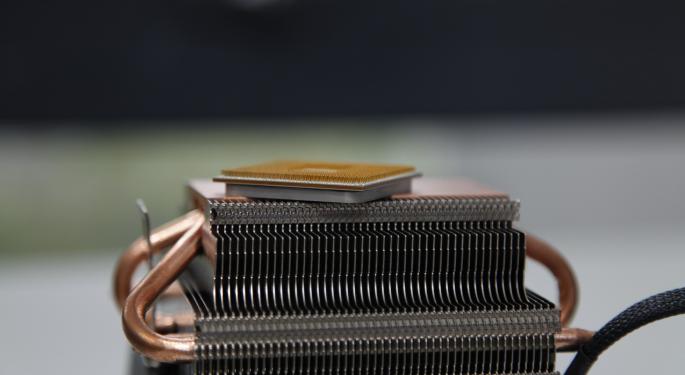 Semiconductor stocks have held up relatively well in 2020 compared to the broader market. However, chip companies linked closely to graphics and gaming, such as Advanced Micro Devices, Inc. (NASDAQ: AMD) have performed much better than semi stocks that are heavily reliant on industrial and automotive end-markets, such as Texas Instruments Incorporated (NASDAQ: TXN)
On Tuesday, option traders were making large bets on both stocks.
The Trades
On Tuesday, Benzinga Pro subscribers received several option alerts related to unusually large trades of AMD and Texas Instrument options. Here are a handful of the largest:
At 10:10 a.m., a trader bought 3,378 Texas Instrument call options with a $120 strike price expiring on Sep. 18 near the ask price at $8.711. The trade represented a $2.94 million bullish bet.
At 10:25 a.m., a trader sold 1,500 AMD put options with a $52.50 strike price expiring in January 2022 at the bid price of $13.151. The trade represented a $1.97 million bullish bet.
At 10:58 a.m., a trader bought 1,981 AMD call options with a $53 strike price expiring on Friday at the ask price of 94 cents. The trade represented a $186,214 bullish bet.
At 101:15 a.m., a trader bought 437 AMD call options with a $40 strike price expiring on Jan. 15, 2021 near the ask price of $15.998. The trade represented a $699,112 bullish bet.
Why It's Important
Even traders who stick exclusively to stocks often monitor option market activity closely for unusually large trades. Given the relative complexity of the options market, large options traders are typically considered to be more sophisticated than the average stock trader.
Many of these large options traders are wealthy individuals or institutions who may have unique information or theses related to the underlying stock.
Unfortunately, stock traders often use the options market to hedge against their larger stock positions, and there's no surefire way to determine if an options trade is a standalone position or a hedge. In this case, given the relatively large sizes of the largest option trades, they could certainly represent institutional hedging.
Green Light For Semi Stocks?
The four large trades in AMD and Texas Instruments mentioned above were all bullish in nature, but the bull thesis for the two stocks may be completely different. Although they're both semiconductor stocks, AMD is heavily exposed to the PC gaming GPU market. Bank of America analyst Vivek Arya on Tuesday named AMD one of his top stock picks in what should be a huge year for GPU makers.
"While the current global health crisis could present a host of challenges, near-term demand (particularly for high-end gaming GPUs) has been boosted by global shelter-in-place orders," Arya said. In addition, he said new gaming console launches in the second half of the year will usher in a major upgrade cycle of gaming products.
At the same time gaming is getting a boost from the COVID-19 shutdown, investors are getting increasingly optimistic the outlook for the industrial and automotive sectors isn't as bad as some had feared. Texas Instruments took a pounding earlier this year due to the fact that it generates about 57% of its total revenue from the industrial and automotive markets.
Bullish sentiment among StockTwits messages mentioning AMD was at 81.1% on Tuesday, while bullish sentiment among messages mentioning Texas Instruments was at 74.9%.
Benzinga's Take
AMD and Texas Instruments are perfect examples of how there are two different bull theses even within the semiconductor sector these days. Assuming the economy bounces back and a second wave of the COVID-19 outbreak doesn't force another shutdown at some point, there's a good chance both a momentum stock like AMD and a rebound play like Texas Instruments will be trading significantly higher by the time those September Texas Instruments calls expire.
Do you agree with this take? Email feedback@benzinga.com with your thoughts.
Related Links:
Citi Option Trader Bets Nearly $1M On Long-Term Upside
View Comments and Join the Discussion!
Posted-In: Bank of America Vivek AryaOptions Top Stories Markets Trading Ideas Best of Benzinga