Gold Finally Behaved Like Gold Last Week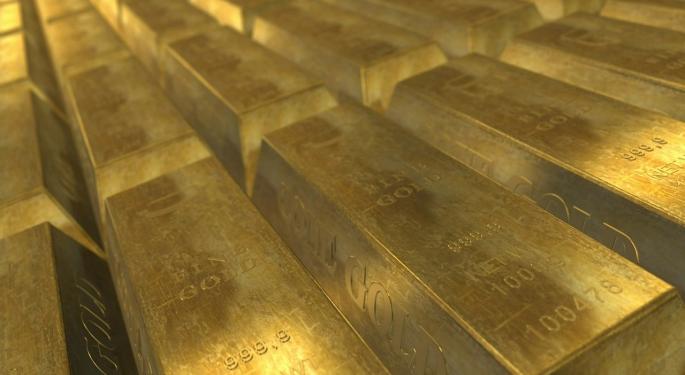 Wall Street's latest case of the yips finally injected some much needed life into precious metal futures. Gold, silver and platinum have floundered near 52-week lows or worse in the midst of a seemingly unassailable U.S. Dollar and generally stable commodity prices.
In the midst of falling stock prices, both the USD and crude have taken a hit, which has prompted some to turn to gold and platinum for value stores while the volatility plays out.
The spot prices for gold in particular has managed to crawl 2.5 percent since the end of September, breaching $1,220 for the first time since July. Platinum is also threatening to break above a three-month high after gaining about 1.3 Percent since the start of the month to within $5 of its August high of 855. Silver, on the other hand, remains within a dollar of its three-year low of 13.88 back in 2015.
December futures contracts in all three metals gained between 1.8-2.2 percent, with gold on the high-end of that range. While this price jump is early goings for the metals, futures traders will be paying close attention to upcoming cues on the strength of the U.S. economy for potential fallout should the dollar drop significantly.
In the global environment of economic tightening, weakness in the dollar would have wide-ranging implications that bodes well for precious metals. Such a fall could affect everything from currency (the yen has already seen a rush of liquidity thanks to the recent tumult) to crude prices, and futures investors will be keeping a close eye on potential indicators of a faltering greenback.
One major upcoming indicator that could prompt even more flight to safety investments like gold is the upcoming earnings season. Bank earnings from JP Morgan Chase & Co. (NYSE: JPM), Goldman Sachs & Co. (NYSE: GS) and others were solid, while Bank of America Corp (NYSE: BAC) showed strong loan growth, providing some insight into borrowing activity. That, in conjunction with the Federal Reserve's implied December interest rate hike, could absolutely cause many to turn their attention to the USD and, potentially, alternative to the USD.
Should oil prices rise or other currencies like the Yen, Euro, Pound or Canadian dollar fail to hold value, precious metals could be the best option in a world economy in consolidation.
RJO Futures is a content partner of Benzinga
Posted-In: Gold RJO Futures VolatilityFutures Commodities Markets Best of Benzinga
View Comments and Join the Discussion!