Congress Has Three Days Left To Fund The Government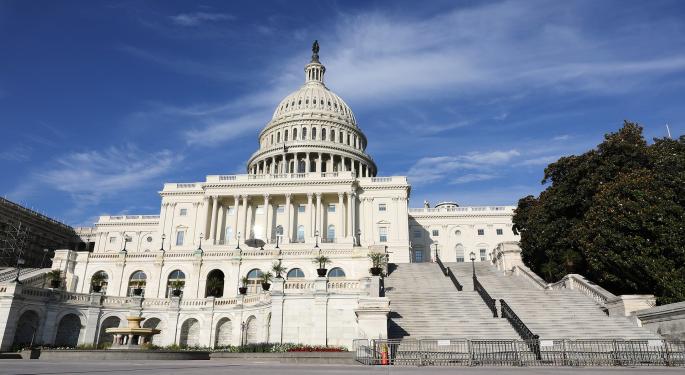 With Christmas Day now less than a week away, Americans once again find themselves in an all-too-familiar situation: Congress is struggling to do its job.
In the latest episode of the Washington circus, Republican leadership is having a difficult time passing a new funding bill that would prevent the government from shutting down following a Dec. 22 midnight deadline. After already passing a two-week funding deadline extension earlier this month, it should come as no surprise to investors that Congress is once again up against an important deadline with no clear plan in place.
In the House, Republicans are planning to pass a spending bill that has almost no chance of making it through the Senate. The House bill reportedly contains a full year of defense spending and a stopgap budget to fund domestic programs through Jan. 19. To entice Senate votes, the House bill is expected to include funding for the Children's Health Insurance Program, as well as funding for ongoing disaster relief in Florida, Texas and Puerto Rico.
Dead On Arrival?
Still, experts say the House bill is unlikely to make it through the Senate without having the defense budget stripped out. Any major amendments from the Senate would likely mean Republicans would be forced to get Democratic House votes to pass the bill. President Donald Trump recently signed an annual defense policy bill that would require $700 billion in Congressional funding, an initiative that's unlikely to win Democratic support.
To complicate matters further, Republicans are primarily focused on tax reform this week. The tax reform bill is likely in its final stages of being passed into law and would mark the first meaningful piece of legislation the current Republican-controlled Congress has passed since the 2006 election. Republicans' efforts to repeal and replace Obamacare have failed, and Trump's campaign promise for a $1 trillion infrastructure spending bill has been put on the back burner.
Time Crunch
House Republicans have been adamant that there will not be a government shutdown. Congress now has less than 48 hours to make that happen, and it appears as if they are nowhere close.
Related Links:
A Cheat Sheet For 2017 Tax Reform
Posted-In: President Donald Trump U.S. House of Representatives U.S. SenateFutures Politics Top Stories Markets General Best of Benzinga
View Comments and Join the Discussion!