OPEC Meeting Ends With An Extension And An Agreement With Russia
This article originally appeared on Nadex.com.
By Bob Iaccino
On November 27th we put out a piece that ended with "rig counts are starting to turn and US production will continue rising. If the market does not get what it wants on November 30th, look about below for the price of WTI crude oil." Well, crude oil got what it wanted. On November 30th, OPEC announced an extension to current production cuts as well as an agreement with non-OPEC producers to do the same. WTI crude closed at $57.39 on November 29th and as of Friday, the price was up 1.7% (price is lower this morning but still above the close of the 29th). So why is crude not flying about $60? Keep in mind all we said was crude could get heavy if there was no agreement, now its time to explore what could happen with an agreement.
What we have now is simply a battle between growing global demand and growing U.S. crude production. Strong global economic growth is the only offset to US production that has now reached a 46-year high. The IEA recent boosted its oil demand forecasts by +1.5 million bpd for 2017 and +1.4 million bpd in 2018. In addition, the original talk of an OPEC extension caused Brent crude to rise much more quickly than WTI, boosting U.S. exports and reducing the U.S. oil glut that was supporting Dec WTI oil prices. U.S. inventories vs their 5-yr seasonal averages are at their tightest in over 3 years as of the week ended Nov 24. Crude oil is only 13.2% higher than the 5-year average, gasoline +0.8% and distillates +2.0%. But the bullish case may not hold.
As mentioned above U.S. production has reached a 46-year high hitting level not seen since the 1970's. Total production has now reached 9.682 million barrels per day.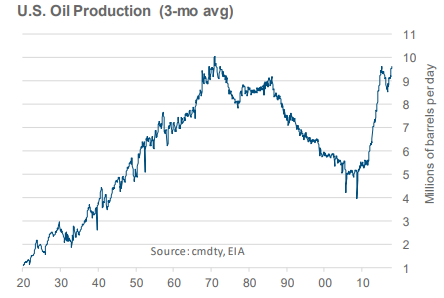 Baker Hughes rig counts have stopped falling and are now up four of the last six weeks with one week being flat. Most importantly, the crude oil price curve has normalized. The curve has steeply inverted, in other words, the price of longer-dated futures contracts has fallen (called backwardation). This means that U.S. shale producers can aggressively sell current inventory at higher prices and replace it with increases in production they can hedge out in the futures market.
So the battle may be lost for OPEC unless demand truly explodes but that can only happen if the global economy jumps up another gear, which pushes the Fed into a more aggressive stance, strengthening the dollar...which does what? Lowers crude prices. It is tough to make a case for a sustained crude price above $60, short of geopolitical supply interruption, which never happens in the Middle East, right? (wink wink).
The preceding article is from one of our external contributors. It does not represent the opinion of Benzinga and has not been edited.
Posted-In: contributor contributors OPECFutures Commodities Markets
View Comments and Join the Discussion!