Who's Val Plame And Why Does She Want To Buy Twitter?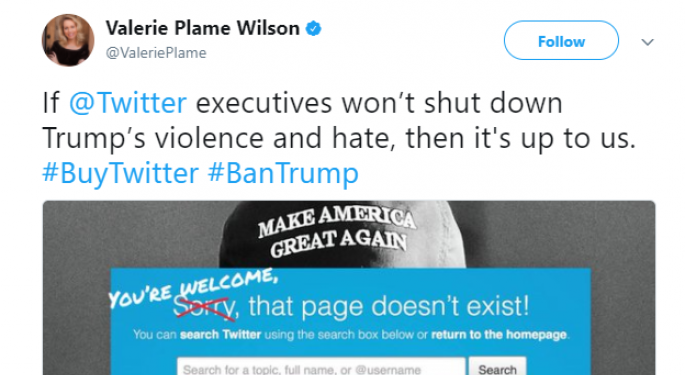 Valerie Plame Wilson, the famous CIA spy whose cover was blown by the White House shortly after the U.S. invasion of Iraq, isn't really serious about buying Twitter Inc (NYSE: TWTR).
She simply wants to send a message to President Donald Trump by making a pyrrhic attempt to purchase his main platform for communication. Her goal is a billion dollars, which isn't enough to buy Twitter but perhaps make her its largest shareholder
Her GoFundMe movement has only $62,766 last time we checked. But that's not the point. It's about generating interest, she said.
"Trump has weaponized Twitter," she told CNN's Wolf Blitzer Thursday. "We don't want to stumble into nuclear war."
Her much-publicized attempt to take Twitter away from Trump has generated enormous attention for nonprofit Global Zero, the organization with which she works to eradicate nuclear weapons.
"The point is that I want to shine a spotlight on how dangerous Trump and his Twitter button can be. Any of the money (raised) will go to Global Zero," she said on CNN.
Who Is Valerie Plame?
Plame was a CIA operative whose spy status was leaked by members of the administration of President George W. Bush in 2003. Bush at the time was waging a propaganda campaign to gain public support to invade Iraq and topple the authoritarian regime of Iraqi ruler Saddam Hussein.
Plame, 54, was a skeptical secret agent and the wife of former career diplomat Joseph C. Wilson. She was born on a U.S. Air Force base in Anchorage, Alaska, and rambled the world thereafter. She speaks French, German and Greek.
In 2002, Her superiors wanted her to recruit her husband to investigate since-debunked claims that Iraq had made arrangements with the incredibly impoverished West African nation of Niger to purchase and import uranium for its nukes.
Plame wrote a memo expressing hesitation about recommending her husband, though she left the option open. Wilson, indeed, took on the freelance mission to Niger. The following year, Wilson published an op-ed piece in the New York Times — the headline read "What I Didn't Find in Africa" — that explained his own doubts about the mission to Iraq.
There Will Be Consequences
A week after Wilson's piece was published, the Washington Post's Robert Novak wrote a column that quoted "two senior administration officials" as saying that Plame had been the one to suggest sending her husband. It was seen as retribution.
The resulting scandal led to a grand jury investigation that indicted then-Vice President Dick Cheney aide Scooter Libby, who was convicted of leaking classified information and sentenced to 20 months in federal prison. Bush subsequently commuted the sentence.
Plame, who left the CIA in 2005, has since been involved in progressive causes.
"If @Twitter executives won't shut down Trump's violence and hate, then it's up to us," she tweeted recently.
Related links:
A Week In The 140-Character Life President Donald Trump
Trump's Gamble On Afghanistan: What It Means _______ Image Credi: Screenshot from @ValeriePlame
View Comments and Join the Discussion!
Posted-In: cnnFutures Politics Top Stories Markets Tech Media General Best of Benzinga