17 Things You May Not Know About Anthony Scaramucci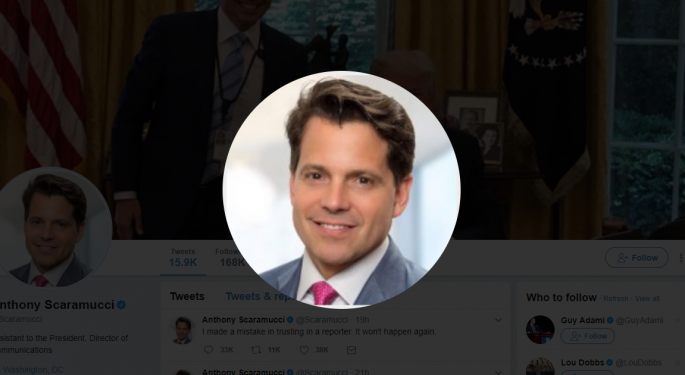 Other than his affinity for F-bombs, fancy suits, hair products and a blunt, take-no-prisoners brashness reminiscent of his boss, Anthony "the Mooch" Scaramucci is mainly a mystery to most people.
President Donald Trump's new director of communications made his debut on the world stage with a splash of dirty water, raking White House Chief of Staff Reince Priebus over the coals to a reporter and labeling the White House chief of staff a bleeping leaker.
Related Link: How Donald Trump Has Alienated The World
Here are 17 things you may or may not know about the man, the myth, the Mooch. Update: On July 31, Scaramucci "resigned" from his role as White House Communications Director.
He supports gay marriage and strict gun control.
He contributed to the presidential campaigns of Barack Obama in 2008 and Hillary Clinton in 2007. He was co-finance chairman of GOP presidential candidate Mitt Romney in 2012.
In September 2010, he asked Obama at a CNBC Town Hall meeting when he was going to "stop whacking Wall Street like a piñata."
He was one of three New York Mets fans who paid $365,000 for catcher Mike Piazza's jersey from the Sept. 21, 2001, game against the Atlanta Braves, the first pro baseball game played in New York following the 9/11 attacks. Piazza hit the game-winning homer.
He began his career as an investment banker at Goldman Sachs, where he worked from 1989 to 1996.
His first year at Goldman, he was fired for doing a lousy job, then was rehired two months later.
In 2005, Scaramucci founded SkyBridge Capital, a global alternative investment firm.
He's written three books on how to get rich.
He was born into an Italian-American, Roman Catholic family on January 6, 1964, on Long Island, New York.
His father was a construction worker.
He was student council president in high school, got an economics degree at Tufts University and a law degree from Harvard Law.
He lives in Manhasset, New York, with his wife, Deidre, who works in investor relations for SkyBridge Capital, and their son, Anthony, Jr. Update: His wife has filed for divorce, the New York Post reported on Friday.
He was the host of the television show "Wall Street Week" and as a contributor to Fox News.
He was one of the figures named in a CNN investigative piece that connected him to a $10 billion Russian investment fund. CNN retracted story and three reporters resigned.
For many years he hosted a conference and extravagant party in Las Vegas for hedge funds called SALT, which has been attended by the likes of Will Smith, Bill Clinton, Kobe Bryant and Al Pacino.
During the presidential campaign, he called Trump a "hack." "He's got a big mouth," Scaramucci said at the time. "You're an inherited money dude from Queens County. Bring it, Donald."
At a press briefing after being named White House communications director, Scaramucci apologized.
_______
Image Credit: Anthony Scaramucci's verified Twitter
Posted-In: Anthony Scaramucci Donald Trump Goldman SachsFutures Politics Top Stories Markets General Best of Benzinga
View Comments and Join the Discussion!