Critics Condemn Sessions' New Order Allowing Feds To Help Local Authorities Seize Assets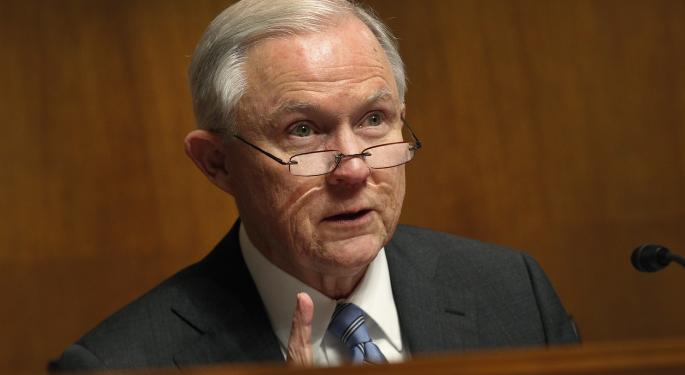 The Trump administration just made it easier for cops to confiscate your possessions or poach your pocketbook, regardless of whether you are charged with a crime.
Making good on a warning issued earlier this week, U.S. Attorney General Jeff Sessions on Wednesday issued new rules allowing the federal government to help local jurisdictions seize the assets of people suspected of being complicit in a crime.
"President Trump has directed this Department of Justice to reduce crime in this country, and we will use every lawful tool that we have to do that," Sessions said in a statement. "It will return us to longstanding DOJ policy."
The directive throws out a 2015 order issued by the Eric Holder, Sessions' predecessor under President Barack Obama, who sought to limit the widely abused "adoptive civil forfeiture" rules that critics contend provides local police with a dubious profit motive.
"This is just opening the floodgates," Dan Alban, a lawyer for the Institute for Justice, a libertarian advocacy group that opposes such forfeitures, said of Sessions' directive.
What Is Civil Forfeiture?
The federal government and most states allow law enforcement authorities to seize homes, boats, bank accounts and virtually anything else of value if there is probable cause to believe that those assets were somehow connected to the commission of a crime.
An Inspector General's report for U.S. Justice Department in March noted that the federal government's asset forfeiture program had seized $28 billion during the previous 10 years.
It cited one case in which Florida's Bal Harbour Police Department laundered over $56 million in drug money as part of a sting operation. Federal authorities took up the investigation and arrested 84 people and seized $49 million.
The local department got a $6 million cut of that even though it didn't issue a single indictment in the case. This is an example of "adoptive civil forfeitures" in which the state or municipality makes a forfeiture and then convinces the feds to take over the case.
"Such outcomes can raise questions about whether seizures are intended to serve legitimate law enforcement interests or to bolster law enforcement budgets," the Inspector General's report said.
Some states have sought to institute safeguards. North Carolina and Montana, for example, require that a suspect be convicted of a crime.
Holder sought to curb these so-called "adoptive civil forfeitures" by restricting federal cooperation with state and local efforts to confiscate property.
Though Sessions said his rules contain "safeguards," Alban dismissed them as ineffective.
"Under today's guidance, the federal government will not adopt seized property unless the state or local agency involved provides information demonstrating that the seizure was justified by probable cause," Sessions said.
Cops Confiscate Cash For Orphans
Yet groups such as the American Civil Liberties Union and the Institute for Justice say it gives police too much power and incentivizes law enforcement.
Alban said last year he represented a Burmese Christian band that had been raising money for a church and an orphanage. A member was stopped for a broken taillight in Muskogee, Oklahoma, and police confiscated $53,000 in charitable proceeds, claiming they had probable cause to consider it drug money.
But the Holder rules were in effect, and the local department was unable to partner up with the feds and use their resources.
"They dropped the case six hours after we filed suit," Alban said. "That case is an example of the kind of case that would be treated as an adoptive seizure."
Editor's note: The article originally stated the case was dropped six months after the suit was filed.
Related link:
Sessions Can't Recall, Refuses To Comment On Any Conversations With Trump About Russia
Image: By U.S. Customs and Border Protection (160120-H-NI589-0103) [Public domain], via Wikimedia Commons
View Comments and Join the Discussion!
Posted-In: adoptive civil forfeituresFutures Politics Top Stories Exclusives Markets Interview General Best of Benzinga