Key Levels In The S&P 500
The NASDAQ 100 is under the most pressure we've seen in a long time. The S&P 500 is trying to ignore it, but the index is giving in a little bit. In the bulls favor is quad-witch tomorrow, where many options expirations occur close to the open, at least for the index. Dealers who take the other side of buy-side options trades usually like to keep the S&P 500 in a tight range so they can easily hedge their positions into expiration. Right now, at all time highs, I'd say that favors the bulls. That said, maybe it's a little less important this quarter because the VIX would imply that almost no one is bidding up the implied volatility of options period.
On the other hand, if we were to slip this afternoon below $2,415, that could take us to $2,400 pretty quickly. With all of that in mind for the short-term, the risk-reward for on a longer-term horizon still seems poor. Even the little pullback by the FANGs and NASDAQ is very meaningful - this market is at extreme trailing valuations and in a historic positive feedback sentiment loop that is very fragile especially when you consider the amount of volume that is controlled by systematic strategies who have been operating in an extreme low vol environment.
We pasted below our levels sheet from last week. We are going for a close below these levels as a sell signal depending on your level of aggression. We tagged a couple of the Week 23 levels intra-day but still no closes. I think the new level after seeing the action today will be 2415 in the S&P 500 Index - that is the low from Friday when the FANG sell-off hit the market. If we break that level then the bulls need to defend the 2396 level aggressively.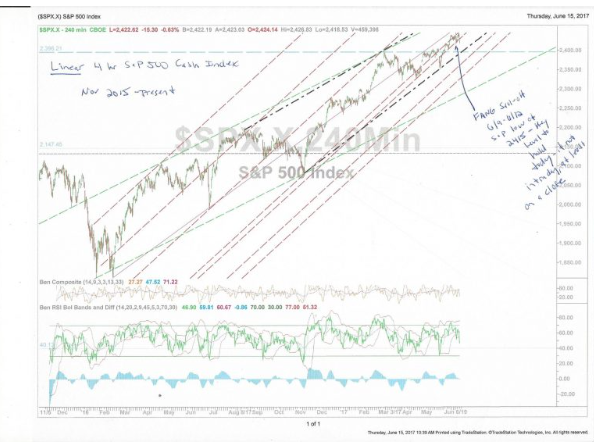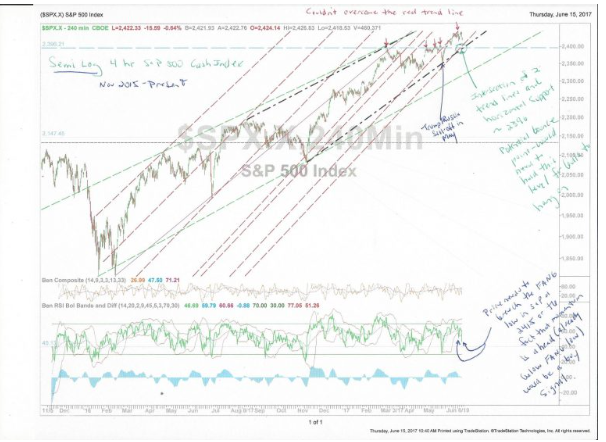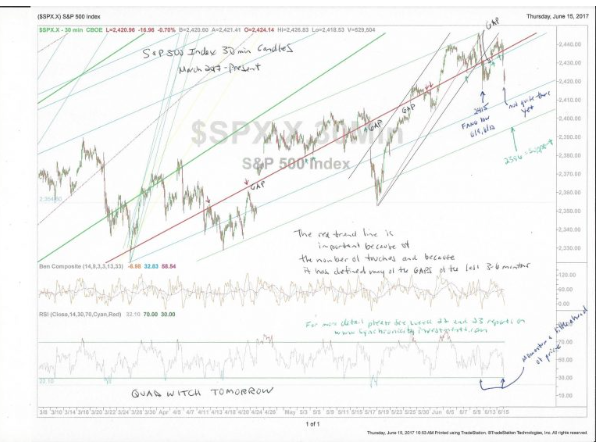 Posted-In: contributorFutures Technicals Markets Trading Ideas
View Comments and Join the Discussion!