USD/JPY Forecast: Strongest Bear Market In Two-years?
The USD/JPY pair is down more than 5 percent from the January high of 113.39 and looks set to extend the drop further toward 103-102 as the bears are at their strongest in two years according to the Bollinger band study.
Weekly chart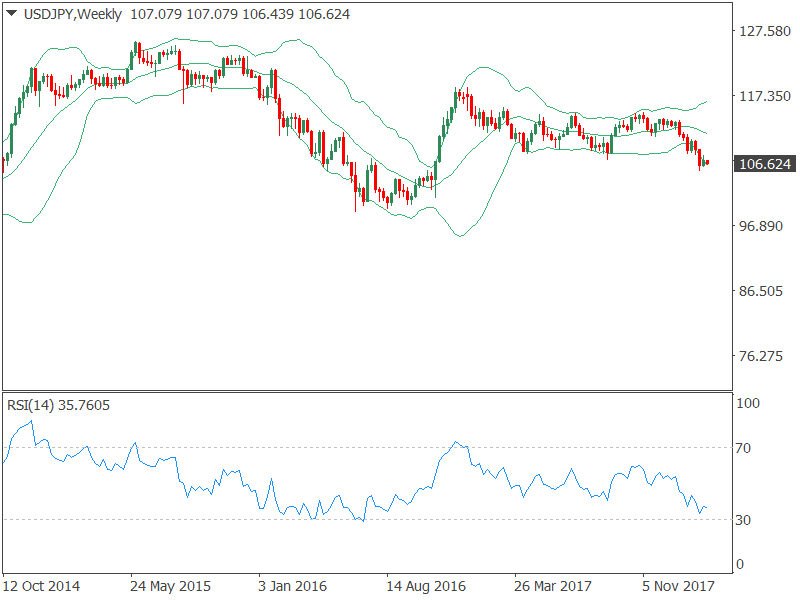 The above chart shows a Bollinger band squeeze (late April to mid-Jan) and a bearish (downside) breakdown (in late January).
The squeeze and the breakdown look similar to the one seen in January 2016. Back then, the relative strength index (RSI) was bearish (below 50.00) and falling. As of writing, the RSI shows a similar bearish bias.
So, it is safe to say that the bears are at their strongest in two years and hence the pair could drop sharply as seen post-Jan-Feb 2016 bearish Bollinger band breakdown.
Further, the weekly 5-MA and 10-MA are biased bearish and the weekly 10-MA and the weekly 100-MA crossover favors the bears.
However, the bullish 5-day MA and 10-day MA cross signals potential for a corrective rally. Also, the dollar could find bids later today if Powell talks about the need for faster rate hikes, although gains will likely be transient as the hardening of Treasury yields and the resulting risk aversion in equities could boost demand for the Yen.
View
The broader outlook remains bearish.
The pair looks set to test 102.00-103.00 and could possibly extend the decline to 100.00 this year.
A Corrective rally above 108.00 is likely to be short-lived.
View Comments and Join the Discussion!