Mark Yusko Explains 'The Miracle Of Bitcoin'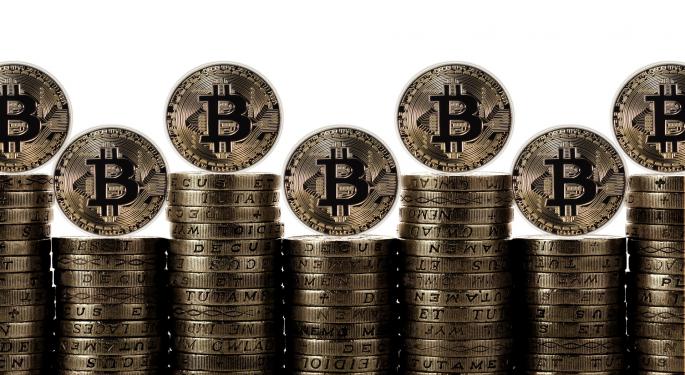 Mark Yusko is a bitcoin believer.
"It's money over IP, and it's going to disrupt banking and finance and title insurance and Mastercard Inc (NYSE: MA) and Visa Inc (NYSE: V) in exactly the same way that the internet disrupted brick-and-mortar businesses and other businesses," the CEO and CIO of Morgan Creek Capital Management said on Benzinga's PreMarket Prep radio show.
Yusko bets on the trending cryptocurrency largely for its "network effect," where rising participation prompts a rise in value. This phenomenon supported its "miraculous" rise from less than 1 cent to $100 to $15,000.
"At the end of the day, these things are not about the current price," he said. "They're about ownership of the network. You want to have an ownership stake in these networks as they evolve."
Why Bitcoin Will Rise: Rebellion
Yusko expects bitcoin to continue leeching money from stocks, gold and cash, ultimately striking a $10-trillion market cap and rates upwards of $400,000.
"Bitcoin's going up because people are fed up with fiat," he said. "They're fed up of being robbed of their wealth."
By his estimation, the U.S. is experiencing an "emerging market problem" when asset prices rise despite weak and declining currency and account deficits, ultimately fostering income inequality and diminishing quality of life.
"It's basically a form of kleptocracy. It's where the elites basically are stealing the wealth from the masses."
The Busting US Bubble: Stocks
The same circumstances herald the final phase of bubbles.
"On a nominal basis, we're at that true mania phase where people are buying stocks at any price," Yusko said, noting disregard for price-to-earnings multiples. "They justify it because of below-interest rates, and this is what happens at the tail end of bubbles."
Yusko detects a "massive bubble" in U.S. equities meriting 10-month bullishness but decade-long bearishness. In fact, he predicts "a day of reckoning" sometime between the second quarter of 2018 and first quarter of 2019.
He accordingly recommends diversification in high-growth opportunities like emerging markets and the allocation of some wealth to stores of value like gold and bitcoin.
Related Links:
3 Must-Know Cryptocurrency Points For 2018
3 Factors Driving Bitcoin Higher: Argus Weighs In On The Great Crypto Debate
View Comments and Join the Discussion!
Posted-In: Bitcoin Mark Yusko PreMarket PrepCryptocurrency Forex Top Stories Markets Interview Best of Benzinga