2017 Might Not Be Good To Gold
Even as risk factors keep piling on in the background, gold prices are set to continue a massive fall-off as investors choose to focus on potential positive tailwinds. Market Vectors Gold Miners ETF (NYSE: GDX), SPDR Gold Trust (ETF)(NYSE: GLD), and Direxion Shares Exchange Traded Fund Trust (NYSE: JNUG) are all trading down from their August highs, while bearish play Direxion Shares Exchange Traded Fund Trust (NYSE: DUST) is up since then.
Moreover, the prospective rise of the US dollar in 2017 could continue pressure gold prices lower well into next year. If you are looking to diversify your portfolio away from gold, now would be one of the better moments to jump on a train headed in the opposite direction.
One of the biggest reasons for gold's decline has been the resurgence of the US dollar. As the American economy has stabilized andthe dollar has strengthened against a basket of its peers, other safe-haven assets, and especially gold, have seen their value decline as investors pick higher yielding assets over risk aversion. Despite the numerous risk factors looming as 2017 approaches, this trend could mean all difference for the remaining gold bugs.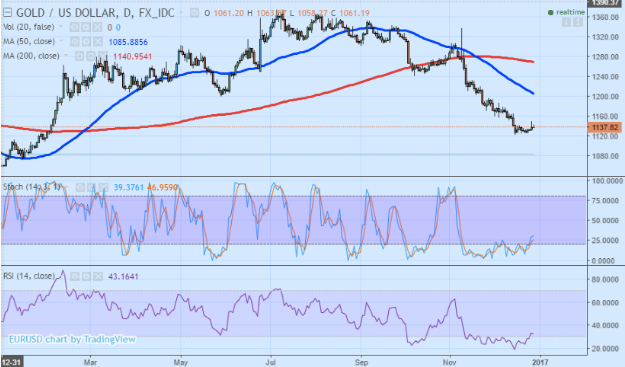 The decline in precious metals prices has been driven mostly by a strong rebound in the dollar. Catalyzing this dollar momentum has been positive expectations for President-elect Donald Trump's administration and the US Federal Reserve's hawkish outlook, which in turn have added to confidence in the US outlook. As such, an excellent opportunity has emerged to rebalance the portfolio away from gold to spend more attention focusing on the dollar against most of its major peers. Considering the increasing bearish backdrop for gold, the time is ripe to look for the exit before prices collapse to new multi-year lows. Senior Binary Options analyst Walter Stawski from TradePlus believes that, "2017 could be the year gold loses its status as the best safe-haven as the dollar continues its furious rally into 2017".
No longer good as gold
Gold is supposed to be one of the safest assets for investors in times of uncertainty and volatility. However, even as risk factors and potential headwinds have piled higher—including mounting uncertainty and the rise of nationalism in Europe—gold prices have continued to drop as demand for haven assets ebbs. What has driven investors away from gold? Despite the uncertainty, the rise of the US dollar has replaced gold as the go-to safe-haven in recent months. Gold and the dollar (XAUUSD) have an inverse relationship, and new developments over the past month have only strengthened the divide.
One of the biggest drivers of a stronger dollar has been the expectation that the US Federal Reserve's recent decision to raise its benchmark interest rate is another step in many for monetary policy normalization. With three more proposed hikes coming in 2017, the dollar is set to continue its run to the top, especially as other major currencies continue to weaken. Between record low interest rates, continued asset purchases, and a general environment of accommodation from central banks across the globe, the Fed's planned tightening puts it on a divergent path.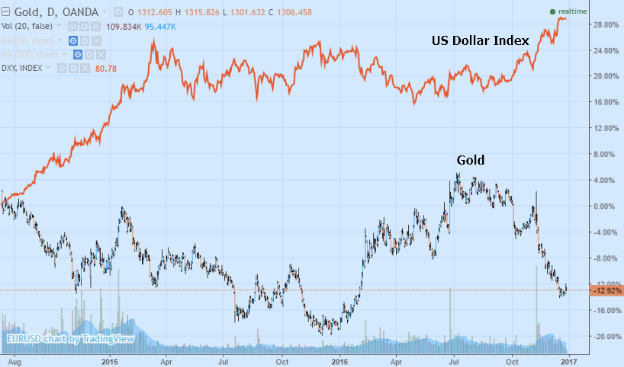 Adding to the upside is the notion that a Trump presidency will create stronger demand for the dollar as the country repatriates much of its currency via expansive fiscal policy and a reshaping of corporate taxes. Despite fears of a downturn after the election, US markets have reacted surprisingly positively to the news. While there is no guarantee that all of Trump's policy proposals will come to pass (especially his tax plans and ambitious infrastructure spending initiative), their success would lead to a strong dollar for the foreseeable future.
Finally, physical demand from gold has actually been on the decline near the end of the year. While China continues to buy more gold, India—the second main source of physical gold demand—has seen demand fall to its lowest point in seven years. Even worse, gold holdings in SPDR Gold shares (the largest gold ETF) have lost 158 tonnes in five months.
What Does it Mean for your Portfolio?
If you are holding gold, now would be the best time to unload some of your assets, especially after the recent recovery following the worst losing streak in 12-years. While gold may always be an important component of any diversified investment portfolio, if your risk threshold is slightly higher, there are several better ways to maximize your investments in 2017.
For one, the US dollar has excellent tailwinds to spur its continued ascent. Bullish positions in USDJPY and bearish positions in EURUSD or GBPUSD could be exceptional, especially if major currencies such as the Yen, Euro, and Pound all continue to trend downward amidst uncertainty and hostile conditions. With the factors stacking up gold demand near-term, the downside risks vastly outweigh the upside potential.
Posted-In: marketacrossEurozone Commodities Markets ETFs
View Comments and Join the Discussion!