Marathon Predicts Greece's 'Yes' Vote, Tsipras Out Next Month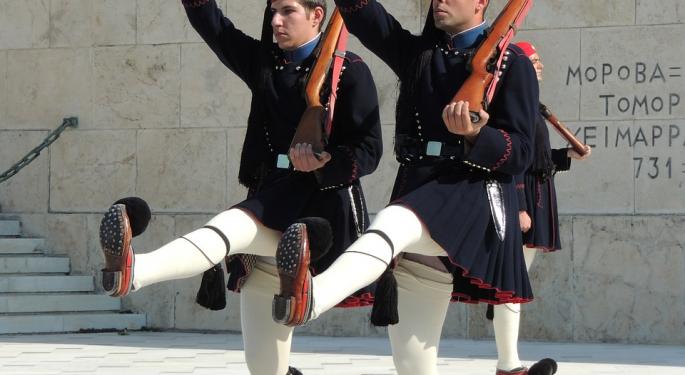 With every passing minute, the Greece debt crisis seems to take a new turn. According to latest reports, the Greek government is seeking a last-minute deal from the eurozone. However, according to Bruce Richards, CEO of Marathon Asset Management, regardless of what happens, Greek Prime Minister Alexis Tsipras will be out soon.
Richards was a guest on Wall Street Week's latest edition. He was again on Wall Street Week's 'Web Extra' recently to discuss the Greece debt crisis and the best case scenario for the country in the next few weeks.
Getting Very Dire
"Thirty days from now – Syriza party, which is Alexis Tsipras, who is the prime minister, probably won't be in office," Richards began. "He has taken the country to a point of brink where hopefully there's a point of return in terms of its economy turning around. But right now, it's getting very dire."
Related Link: Has Greece Had Its "Lehman Moment?"
The Best Case
Richards was asked his best case scenario for this crisis in the next few weeks. He replied, "So, what I think happens: There is a small probability he (Alexis Tsipras) resigns, small probability he strikes a deal. What's most probable is, you go to a referendum on Sunday, referendum that the people want to vote for. If the people vote yes, that is a very positive thing for Europe, it's a very positive thing for Greece and that's the base case."
He continued, "But over the course of the week, we are going to see all these polls come and we will see the polls come in at 70 percent or 78 percent or maybe it drops down to 65 percent. One poll is different from another poll. But I believe at the end of the day, they are going to vote the rational vote."
Related Link: Bitcoin Rises As Greece Falls...Coincidence?
Tsipras Is Out Either Way
"Greek people are smart; they are good business people, and they are going to vote for the most sane economic program for Greece, which is to stay on the euro. And if that were to happen, then that's a vote against the party of Syriza and Alexis Tsipras and so he's probably out either way," Richards concluded.
Image Credit: Public Domain
View Comments and Join the Discussion!
Posted-In: Alexis Tsipras Bruce Richards Greece Marathon Asset Management SYRIZAEurozone Markets Media Best of Benzinga