China On Track To Have A Cyclical Boom In 6-12 Months; Here's Why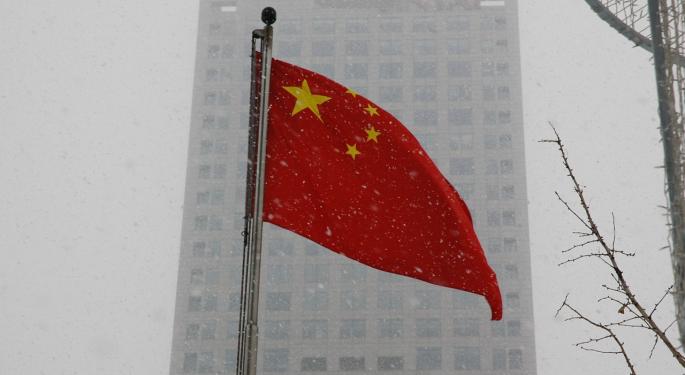 While there were numerous concerns regarding China's economy over the past few months, Chinese stocks had a spectacular run in the same period. According to former hedge-fund manager and current chairman and CEO of Duquesne Family Office, Stanley Druckenmiller, this run is going to continue.
Druckenmiller was recently on Bloomberg to discuss why he feels China will witness a cyclical boom in next 6 to 12 months.
What Comes Around, Goes Around
"The Chinese stock market is up, I don't know, 140 percent in six months after being in a downtrend for five to seven years," Druckenmiller said. "And it's doing so on record volume with record breadth.
Related Link: Is China Weakness Offsetting iPhone, Galaxy Demand?
"If it was any other stock market, or certainly any developed market, I would tell you, being a market observer, there's a 98 percent chance China will be in a cyclical boom 6 to 12 months from now."
Druckenmiller backed his claim by stating, "Because, it's China – and we don't know the nature of what we're dealing with here relative to normal, mature, developed markets – I would downgrade that assessment from 95 percent, but I would still hold it over."
Not The Data
Druckenmiller was asked if he is downgrading his assessment because, like Jim Chanos, he doesn't believe in data coming out from China. He replied, "No. It's not the data. I'm watching the markets, and whenever I've seen a stock market explode on record volume and record breadth and move to that degree – like day follows night, 6 to 12 months down the road, you're out of recession, and you're into a full-blown recovery.
"The reason that happens, I think there's enough of that that it's certainly greater than 50 percent China will be [in recovery] in 6 to 12 months, and just think of how differently the world is thinking about that. The Fed had it in their minutes last month that one of the reasons to delay, or one of the things of concern, was the Chinese economy."
He continued, "Christine Lagarde was on the cover of the Financial Times last Friday. Her biggest worry: the Chinese economy. So as someone who's trying to think of what security prices might look [like] at 6 to 12 months down the road, I'm very intrigued with, a) the possibility of a Chinese economic recovery, and [b)] how differently we all might be thinking if it's actually unfolding later in the year."
Related Link: Emerging Market ETFs Are April's Star Performers
Overvaluation Doesn't Concern
On whether or not he is concerned that the stocks listed on the Shanghai and Shenzhen stock exchanges might be overvalued, Druckenmiller said, "Well, I'm not – first of all, no. Overvaluation doesn't concern me at all.
"I'm not even opining on the stock market. I'm opining on the transmission mechanism, the stock market to the economy, but I would point out that the H shares in Hong Kong representing China are 10.1 times earnings."
Druckenmiller continued, "I mean, I bought the NASDAQ at the high end – I mean in 2000 when it was a 150 times earnings. So I'm not talking about valuation or even the Chinese stock market here. I'm talking about when you get this kind of thrust, when economic activity is weak, in a normal market, you get a big economic response 6 to 12 months down the road.
"Because it's China, I think we're talking about 70 percent, but the market is probably at 15 percent on that," Druckenmiller concluded.

Image Credit: Public Domain
View Comments and Join the Discussion!
Posted-In: China Christine Lagarde Duquesne Family Office Financial Times Jim Chanos Stanley DruckenmillerShort Sellers Media