Patron Of Fintechs: Surveying Goldman Sachs Growing Portfolio Of Tech Startups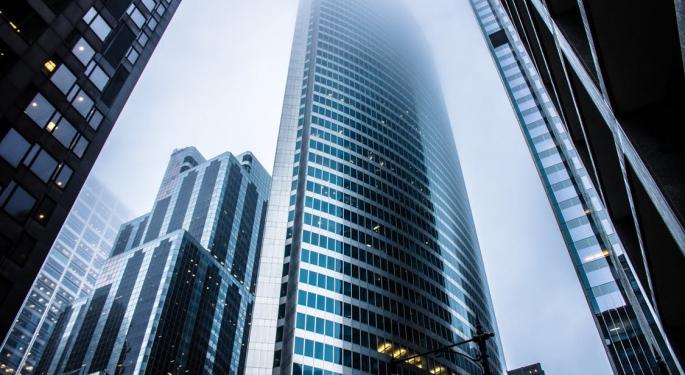 As reported Tuesday this week, fintech startup Even Financial announced raising $18.8 million in Series A seed funding, a portion of which came from investment bank Goldman Sachs (NYSE: GS).
Even Financial, whose flagship application program interface (API) collects and curates financial service products and offers for distribution on various bank and brokerage websites and user portals, is the latest in a string of fintech investments, partnerships and acquisitions on the part of Goldman Sachs. The bank itself has been leaning heavily on evolving its own loan origination and financial planning platform Marcus, which it launched just six years ago and has already generated $3 billion in loans and 22 billion in account deposits for the financial behemoth.
In light of this most recent investment, we collected some of Goldman Sachs' other bids for a foothold in the surging fintech space to shed light on just how and where the legacy bank has previously attempted to make inroads.
Circle / $50 million funding round
What started as a p2p payment service dealing in fiat currencies in 2013 has, in a just five years, evolved into one of the first and most popular methods of making cryptocurrency transactions. The crypto segment of the app has been popular enough to warrant the company to acquire cryptocurrency exchange Poloniex this year while also announcing its own "stablecoin" currency.
Goldman's 2015 investment (alongside China-based IDG Capital) marked a time when Circle was re-entering the crypto market, and the investment from Goldman anticipated the bank's most recent consideration to offer crypto custody accounts to its clients. While crypto-mania has receded since the 2017 rally, Circle is still poised as a key player in the p2p payment field alongside Venmo and Zelle.
Clarity Money / $100 million acquisition (est.)
Founded in 2016 as a free-to-download personal finance app, Clarity Money is one of many multipurpose financial management tools that organized user finances, accounts and bills. However, much like Even Financial, the application also worked to recommend credit cards or services that might suit the user based on his or her habits.
The company had received funding from other banks and VC organizations throughout the years, including Citi Group and Bessemer Venture. However, Goldman's 2018 closed-door acquisition injected the application directly into Goldman's larger fintech strategy, which also includes the vast amount of consumer data the app generates.
Trussle / $17.5 million funding round
UK startup Trussle in 2015 introduced a streamlined mortgage shopping and origination platform, not entirely unlike the services provided by America's own Quicken Loans.
Again like Even Financial, Trussle's platform collects customer data and organizes products and offers to its users based on that information. The company has raised about $25 million over three rounds of fundraising (converted from pounds, of course).
Paidy / $55 million funding round
The unbanked payment app Paidy emerged in 2008 as a way for the largely cash-based Japanese economy to still transact cash-on-delivery payments without the float necessary for such exchanges. Paidy allows users to charge transactions to the service, paying off the bill each month. While very similar to a credit card, the service vets each users credit worthiness, a feature it has parlayed into a credit underwriting service.
Goldman entered the picture much earlier than Paidy's 2018 funding round. Company CEO and co-founder Russell Cummer is a Goldman alum. The funding, and family ties, not only provides the bank a toe-hold in the Japanese market, but opens up the possibility of expanding the underwriting and insurtech practices into domestic markets that are quickly developing a need.
Marqeta / $45 million funding round
Through its API, Marqeta provides an a la carte offering of account payment processing options for businesses. The company was founded in 2010 and now boasts a client list that includes digital payment services Kabbage and Square (NYSE: SQ).
Given the prestigious list of users, it's not hard to see how the company managed to raise more than $115 million over four funding rounds. The latest and largest of these investments into the API payment and receivables technology was led by Goldman Sachs.
Posted-In: Even FinancialCryptocurrency Fintech Markets Tech
View Comments and Join the Discussion!