Bankless Currency Exchange Goes Global With Yellow Card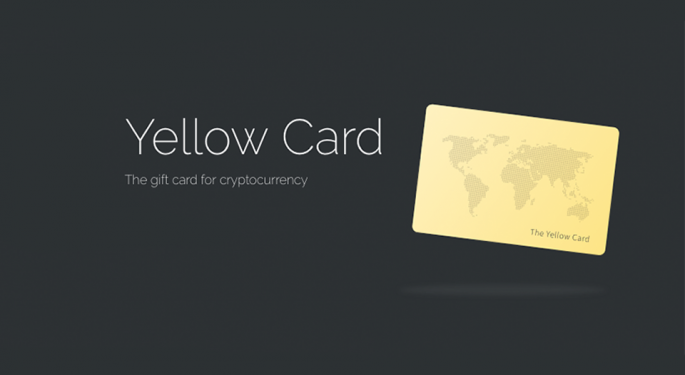 The Benzinga Global Fintech Awards are a yearly showcase of the best and brightest in fintech. In preparation for its biggest installment yet in May 2018, we're profiling the companies competing for the BZ Awards.
Our next feature is on Yellow Card.
What does your company do? What unique problem does it solve?
Chris Maurice, CEO: Yellow Card is a digital currency exchange for the cash market. Over 1 billion people in Africa and the Middle East do not have access to basic financial services like a bank account. Digital currencies, like Bitcoin and Ethereum, are a life-changing technology for these people; however, you'll need a bank account to buy and sell. Yellow Card removes banks completely from the process to make financial inclusion a reality and include everyone in the global economy.
Who are your customers?
Maurice: In Africa and the Middle East, our customers will be those trying to exchange their local fiat currency for digital currency, which they may utilize on an international market. Those who wish to secure their money against inflation, access global commerce, and send money to their friends and family around the world.
In the United States, our customers will be those looking to break into the digital currency space through a simple, understandable medium like a gift card. Additionally, those who are trying to send money overseas to their friends and family in Africa and the Middle East will be able to save hundreds of dollars each year by switching to the Yellow Card Platform.
How long have you been in business?
Maurice: We've been working on putting everything together for about 2 years now. We'll be launching Q2 2018.
Where are you located?
Maurice: We're currently out of the Auburn University Tiger Cage Incubator & Accelerator. We'll be moving out to Atlanta this summer.
Who is your company's leadership? What kind of experience do they have?
Chris Maurice is the CEO and co-founder of Yellow Card Financial. Chris has always pursued his love for entrepreneurship. In high school, Chris began offering freelance writing and SEO services, working his way up to become the top-rated sports writer and targeted keyword analyst on Fiverr.com which continued throughout his time at Auburn University. Whether it is spending his summers volunteering at a camp for people with special needs or his time as an Eagle Scout, Chris has always been passionate about helping others. He understands the global impact that cryptocurrency will have, and he strives to create a world where financial freedom is a reality for everyone.
Justin Poiroux, CTO: Justin Poiroux is a tech enthusiast with a passion for Computers and Computer Software. He began programming at the age of 10 in hopes of designing video games, and has since then had two NSF grants, an Internship at the Air Force Research Lab, a job as a Network Specialist, and has developed zero video games. He picked up a new passion for Bitcoin and Cryptocurrency around five years ago and has not been able to stop since.
Who are your investors, if any?
Mr. Bob Browning is a seasoned leader with a proven track record and over 30 years of experience in a broad range of executive roles within multiple industries, both domestic and international, including six years as CEO of Alinta Limited. Mr.Browning was CEO of Austal Limited from July 2007 through November 2010 and Director of Austal Limited from September 2003 to November 2010. Mr. Browning held the role of Managing Director of Emerchants Ltd for 18 months and is currently a non-executive director of Emerchants and Chairman of Bid Energy Ltd.
Maurice: Bob has been an amazing friend and mentor over the past year and a half. He was one of the first people to believe in us when we were two kids and a PowerPoint. We wouldn't be here today without him.
Is there anything else Benzinga should know about your company?
Maurice: We're young, we don't sleep, and we're ready to make a big splash in the market.
To check out companies like Yellow Card for yourself, grab a ticket to the Benzinga Global Fintech Awards May 15-16 in New York.
Posted-In: Benzinga Global Fintech Awards Yellow CardCryptocurrency Fintech Interview Best of Benzinga
View Comments and Join the Discussion!