Bitcoin Price Slides Further Toward $6,600 As Experts Say There Is An Impending Bitcoin Bull Run In 2018
Bitcoin price tumbled below the pivotal $7,000; short-term support found at $6,600.
Experts in the cryptocurrency space are convinced that top digital assets will have a strong comeback in 2018
The selling pressure is still looming in the cryptocurrency market where a majority of the digital assets are showing red as the weekend nears. Bitcoin price tumbled below the pivotal $7,000 level during the trading session yesterday. BTC/USD found a support at $6,600; however, the price has been capped below $6,900.
Cryptocurrencies have been on to a rough patch in the first quarter of 2018. The majority of the coins have lost more than half their value recorded at the end of 2017. However, experts in the cryptocurrency space are convinced that top digital assets will have a strong comeback later this year.
BRD CMO and Co-founder Aaron Lasher said, "The game isn't over, Digital scarcity is a major innovation in money and value, and we're in the initial stages of a multi-decade trend toward tokenization of assets."
Bitcoin has been said to drag all the cryptocurrency market with it. The experts say the current declines are just but a bearish phase. Bitcoin price will recover eventually after the lengthy bearish stage from the beginning of the year. The impending launch of ETFs will drive speculation of Bitcoin price. On the other hand, regulations will soon settle and will allow cryptocurrencies to grow in a fairly stable economy. Regulation is finally being viewed as a necessary evil.
Bitcoin price technical picture
The 100 SMA could not hold the price during the recent decent but will offer resistance as Bitcoin price retraces higher above $7,000 level. There is a growing bullish momentum as the gap between the 100 SMA and 200 SMA narrows. Similarly, MACD is slightly dipping into the positive territory to signal buyers to enter the market. On the downside, the immediate support for BTC/USD is at $6,600; however, the major support still rests at $6,450.
BTC/USD hourly chart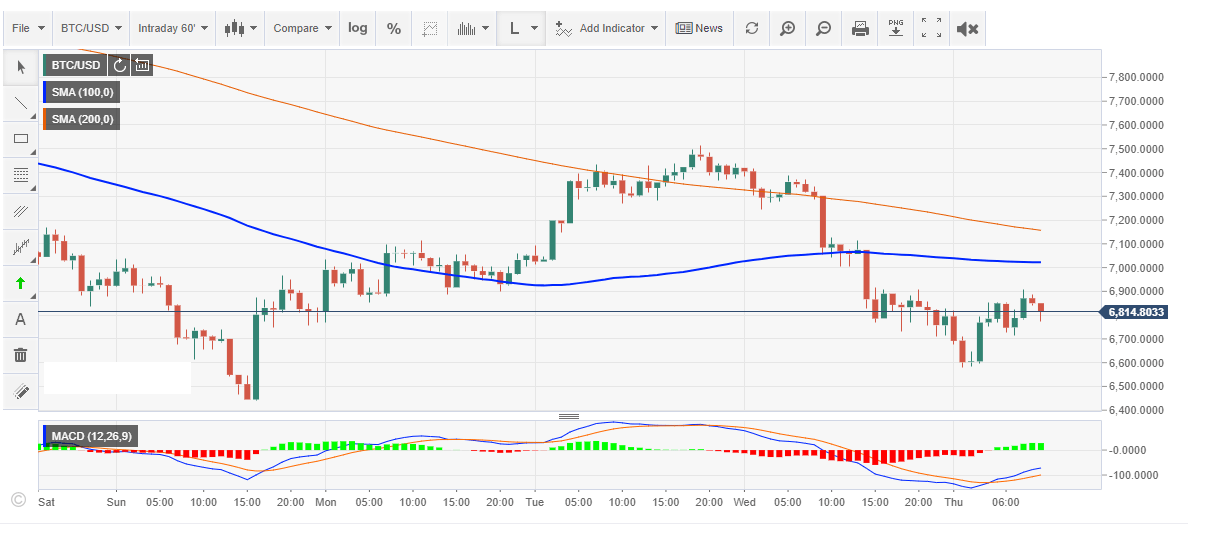 Posted-In: FXStreetCryptocurrency News Forex Markets
View Comments and Join the Discussion!