5 Cryptocurrency Stocks That Are Rallying Despite Hacking Headlines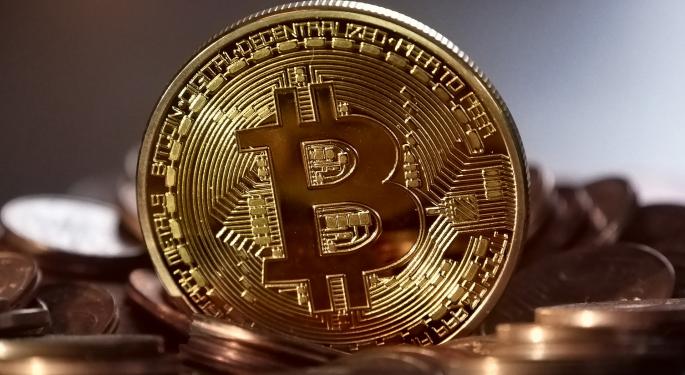 Cryptocurrencies and related stocks are on a tear Tuesday despite some negative news in the sector, a demonstration of strong investor preference for the asset class. Bitcoin, the mother of all digital currencies, steamrolled to another record.
Tether, which promotes a dollar-pegged cryptocurrency used widely in exchange trade, announced Tuesday that its system was hacked: $30.95 million was removed from the Tether Treasury wallet Nov. 19 and sent to an unauthorized address, according to the company.
Tether is supposed to serve as a proxy for the U.S. dollar that can be send between exchanges, including Bitfinex, Poloniex and others without fiat trading, according to Coindesk.
The company said it's in the process of attempting token recovery so that the stolen funds don't find their way into the broader ecosystem. Until then, the company has requested not to receive any USDT tokens from the tainted address or from any downstream address that receives the tokens.
See also: How Bitcoin Cash Could Supplant The Original Crypto
Running Up Unhindered
Bitcoin has continued it recent run and hit a fresh record near the $8,400 level, although it's now trading off this record. The digital currency did see a setback immediately after the news of the hack broke. It tumbled to a low around $7,800 before staging a recovery.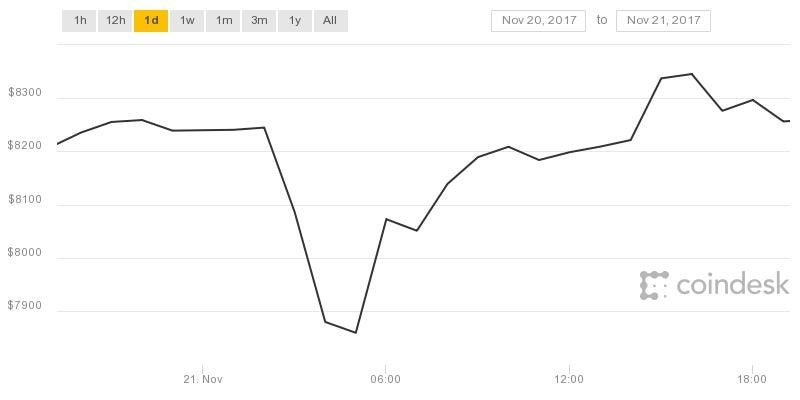 Source: Coindesk
Linked Stocks On The Move
Some cryptocurrency-related stocks, which are an alternative way to capitalize on the sector optimism, also ran up sharply Tuesday, along with Bitcoin.
• Bitcoin Investment Trust (OTC: GBTC) — Up 1.98 percent to $979. It is an OTC-listed investment vehicle that gives investors exposure to the price movement of bitcoin without the challenges of buying, storing and safekeeping it. The shares of Bitcoin Investment Trust track the market price of bitcoin.
• Riot Blockchain Inc (NASDAQ: RIOT) — Up 18.59 percent at $12.27. This Nasdaq-listed company has exposure to cryptocurrency through targeted investment in the sector, primarily bitcoin and Ethereum blockchains. The company has made strategic investments in exchanges such as Coinsquare.io, Tesspay.io and Verady.com. The company is also in bitcoin mining.
• Social Reality Inc (NASDAQ: SRAX) — Up 8.30 percent at $4.44. It is in an internet advertising and technology company. The company recently announced plans to launch an initial coin offering, or ICO, to sell BIGtoken, a digital currency customers can earn for sharing data.
• Xunlei Ltd (NASDAQ: XNET) — Up 7.42 percent at $20.40. Xunlei is a cloud-based acceleration technology company that recently launched the Onecloud project, a content delivery network with its own digital currency. The blockchain of Onelcoud coin, which is meant to be distributed to device holders depending on their contribution to the network, was launched Oct. 12.
• Overstock.com Inc (NASDAQ: OSTK) — Up 6.53 percent to $60.35. Overstock.com has recently tied up with Coinbase, a cryptocurrency exchange, to become the first retailer to accept digital currency. The company allows purchase of Overstock.com products using Bitcoins.
Related Link:
View Comments and Join the Discussion!
Posted-In: Bitcoin Investment Trust overstock.com Riot Blockchain Social RealityCryptocurrency Top Stories Markets Trading Ideas Best of Benzinga