Tea Party Funding is Coming from Top Air Polluting, Koch Brothers - New Yorker Says.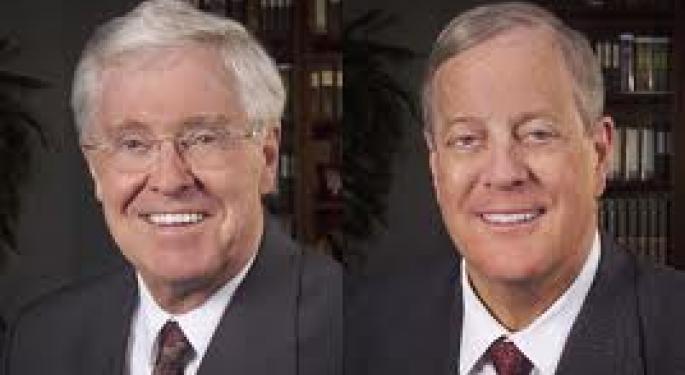 An article in this month's The New Yorker entitled, Covert Operations - The billionaire brothers who are waging a war against Obama, by Jane Mayer, reveals that much of the seed money for the Tea Party came from the billionaire, libertarian, right wing, Koch brothers.
Who are the Koch brothers?
David and Charles Koch, both in their 70's own virtually all of Koch Industries, a private conglomerate, whose annual revenues are estimated to be a hundred billion dollars. Koch Industries owns Brawny paper towels, Dixie cups, Georgia-Pacific lumber, Stainmaster carpet, and Lycra, among other products. Forbes ranks it as the second-largest private company in the country. The Kochs operate oil refineries in Alaska, Texas, and Minnesota, and control some four thousand miles of pipeline.
The Koch brothers founded Americans for Prosperity Foundation. Peggy Venable, an organizer, explained the role of Americans for Prosperity is to help "educate" Tea Party activists on policy details, and to give them "next-step training." She said of the Kochs, "They're certainly our people. David's the chairman of our board."
Here's a description of an Americans for Prosperity Foundation event taken from The New Yorker:
"Over the July 4th weekend, a summit called Texas Defending the American Dream took place in Austin. Five hundred people attended the summit, which served, in part, as a training session for Tea Party activists in Texas. An advertisement cast the event as a populist uprising against vested corporate power. "Today, the voices of average Americans are being drowned out by lobbyists and special interests," it said. "But you can do something about it." The pitch made no mention of its corporate funders. David Axelrod, Obama's senior adviser, said, "What they don't say is that, in part, this is a grassroots citizens' movement brought to you by a bunch of oil billionaires."
The article says that the Koch brothers have previously denied links to the Tea Party:
"In April, 2009, Melissa Cohlmia, a Koch company spokesperson, denied that the Kochs had direct links to the Tea Party, saying that Americans for Prosperity is "an independent organization and Koch companies do not in any way direct their activities." Later, she issued a statement: "No funding has been provided by Koch companies, the Koch foundations, or Charles Koch or David Koch specifically to support the tea parties." David Koch told New York, "I've never been to a tea-party event."
The Koch brothers have founded a half dozen political groups including the libertarian Cato Institute, and some anti climate change and anti environmental regulation groups. So where's the conflict of interest? The Koch Brothers own a bunch of oil refineries.
Here are quotes from the New Yorker article:
"In a study released this spring, the University of Massachusetts at Amherst's Political Economy Research Institute named Koch Industries one of the top ten air polluters in the United States. And Greenpeace issued a report identifying the company as a "kingpin of climate science denial." The report showed that, from 2005 to 2008, the Kochs vastly out did Exxon-Mobil in giving money to organizations fighting legislation related to climate change, underwriting a huge network of foundations, think tanks, and political front groups."
The $2.5 Million Market-Beating Secret is Available. Get it here for free.
Posted-In: Americans for Prosperity Charles Koch David Koch koch brothers tea party Tea Party FundingNews Politics
View Comments and Join the Discussion!