Bye Bye Blockbuster... Video Store Chain To File Bankruptcy Next Month (NFLX, CSTR, NCR)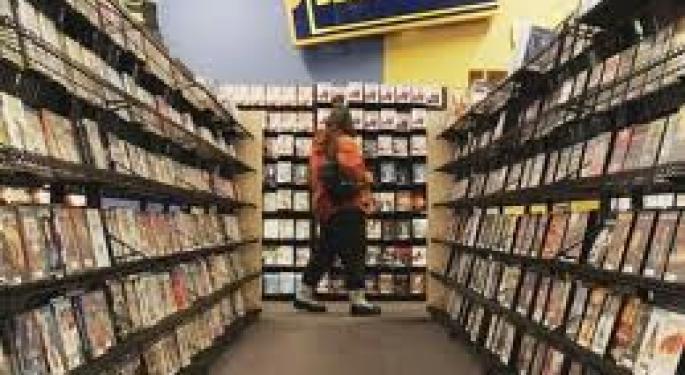 The slogan used to be "Make it a Blockbuster night." Now the slogan appears to be "Make it a bankruptcy month."
Home video rental chain Blockbuster told Hollywood studios earlier in the month that it plans to file for bankruptcy in September, coming after dominating the the video rental business for more than a decade.
Blockbuster could no longer compete with companies like Netflix (NASDAQ: NFLX) and Redbox, a subsidiary of Cointstar (NASDAQ: CSTR).
It met with six major studios last month in Hollywood, according to a source, and said the company would file a "pre-packaged" bankruptcy.
Blockbuster hopes that during the Chapter process that it will be able to restructure its debt, currently at $1 billion, as well as get out of leases on at least 500 of its 3,425 stores in the United States.
If the company can continue receiving the support of Hollywood's film studios during the bankruptcy, this will be a major coup for Blockbuster, so that it can continue receiving new DVDs.
Since the beginning of 2008, Blockbuster has struggled mightily, losing $1.1 billion. The company hasn't been able to grow the business due to the massive interest payments on its $920 million worth of debt.
Earlier in the month, Blockbuster had agreed to a forbearance on interest payments until Sept. 30 with its lenders. The company had hoped for a recapitalization, but this ultimately proved fruitless.
One company that is a potential beneficiary of the Blockbuster bankruptcy is kiosk manufacturer NCR Corp., (NYSE: NCR).
NCR has already displayed approximately 6,000 Blockbuster-branded kiosks that, like its competitor Redbox, rent DVDs for $1 a night. Shares of NCR are trading at attractive valuations, trading for just over 7.5 times forward earnings. NCR also just announced that it signed a deal with Barclays to handle the bank's ATM deal in the United States.
Investors may want to take a look at NCR if they believe that Blockbuster comes out of bankruptcy a much stronger company and can capture back market share from Netflix and Redbox.
While consumers may no longer be making it "a Blockbuster night" for the time being, they may be making it "a Blockbuster swipe", depending on how the kiosk initiative goes.
As a former employee who enjoyed his time working there during high school, I'm hoping the company pulls through, and Blockbuster nights will return once again.
You Can't Afford Miss To Out On These Money Making Trading Ideas.
View Comments and Join the Discussion!
Posted-In: Long Ideas News Pre-Market Outlook Markets Trading Ideas