With OPEC's Cut, Is It Time To Buy Oil?
For the first time in eight years, OPEC has decided to cut oil production. The announcement has sent crude oil rallying 10 percent higher since, and led to a rally across the board in Chevron Corporation (NSYE: CVX), Exxon Mobile Corporation (NYSE: XOM), BP plc (ADR) (NYSE: BP) ConnocoPhillips (NYSE: COP) and the United States Brent Oil Fund LP (ETF) (NYSE: USO).
At best, the cartel was expected to agree upon a production freeze. However, they took it a step further by agreeing to cut production to between 32.5 million and 33 million bpd.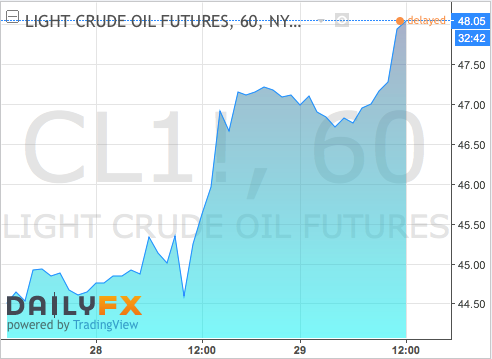 Source: Daily FX
Whilst Goldman Sachs did not change its price outlook based on this output cut decision, it did state that the deal could add about $7 to $10 to the oil price in the near-term, which would take WTI crude oil into the mid- 50s to high-50s range.
Iran was not obliged to cap its production as part of the deal, regardless of Saudi Arabia's earlier efforts to encourage Iran to freeze its output. This indicates how desperately Saudi Arabia needed a deal to come out from this meeting, knowing that another failed meeting would cause oil prices to collapse. This can be taken as a sign that the country has reached its limit in terms of enduring self- inflicted pain from the oil price downturn.
Before its November meeting, non-OPEC members will also be approached to potentially join the deal and cut output. In fact, there is a good chance Russia will join the deal given the fact that it has been in favour of market- stabilizing deals that still allow Iran to continue pumping oil to its pre-sanction levels. This could further add to the bullish sentiment in the oil market.
However, several details of the deal will still need to be decided on at the OPEC meeting in November, such as how much output each nation will cut. Disagreements over this could cause the deal to fall apart. And even if an agreement was reached, how sure can the markets be that each nation will live up to its promises? In fact, historically OPEC nations have exceeded their output objectives by 5 percent.
Moreover, it is unlikely U.S. shale producers would be part of any production cut agreement. Hence, shale producers may indeed increase their productions to take advantage of the higher oil prices, in attempt to recover their revenues and profitability. This could dampen the impacts of any supply cuts from OPEC, and consequently limit any oil price rallies.
Whilst a 750,000 to 800,000 bpd production cut is not going to solve the oversupply problem anytime soon, investors must note that this is a fundamental change in the OPEC oil strategy. It is a major shift from its 'pump at your own will' policy from November 2015, which allowed each nation to produce as much oil as they liked. Willingness from OPEC to support prices through production cuts marks the end of its 2- year strategy of pushing oil prices lower to knock out shale producers and maintain its market share.
This will certainly result in a sentiment driven rally in the near term, and if this output deal is indeed put into action at the next OPEC meeting with all the details sorted out, this sentiment driven rally could turn into a real fundamentally driven rally, as the cartel shifts back into a 'market management' role to overcome the excess supply in the market. This reversal in production policy is much more noteworthy than temporary imbalances in demand and supply. It means the market is now on track towards rebalancing.
Technical Indicators
Technical indicators are already giving bullish signals for the oil price going forward.
The 20- day moving average has been trading above the 50- day moving average for over a month now, and both the moving averages have remained strongly above the 200- day moving average, reflecting the bullish technical conditions for oil even prior to the OPEC announcement.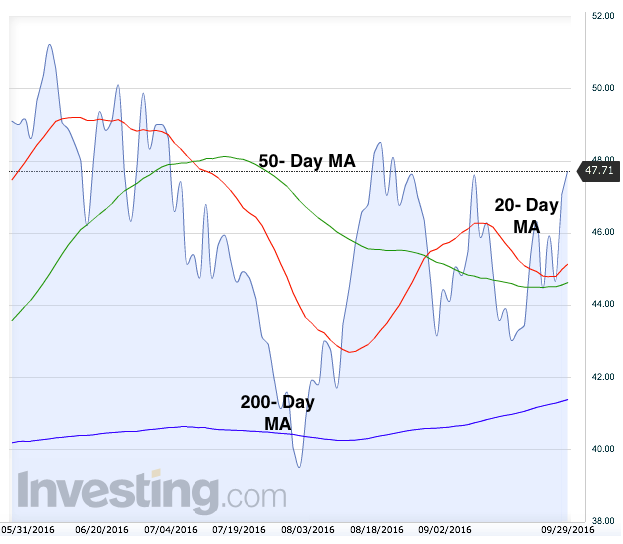 Source: Investing.com
The Stochastic Oscillator made a bullish crossover on Wednesday following the OPEC announcement, confirming the bullish trend.
Posted-In: Commodities Markets
View Comments and Join the Discussion!