What Decreased Italian Wine Production Means For The Global Wine Industry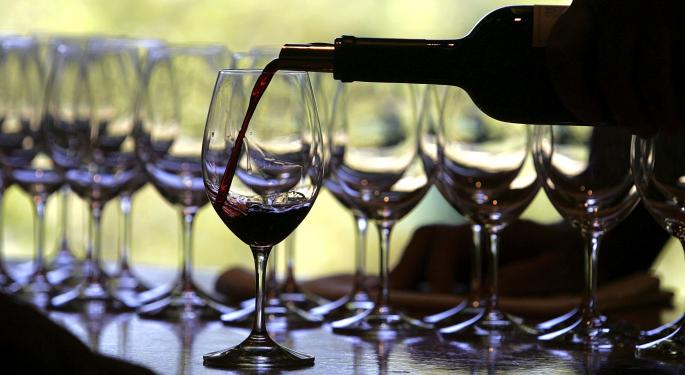 Last week, Bloomberg reported that wine production in Italy could decrease as much as 14 percent this year due to a rainy summer and cloudy skies that resulted in fungal rot.
This number is based on an online report from the Associazone Enologi Enotecnici Italiani that said Italian winemakers may only produce 41.6 million hectoliters as opposed to 48.16 hectoliters from last year.
Experts Say Estimate Isn't Exact, But Fair
Global Wine Cellars senior wine buyer Martin Reyes told Benzinga that most of the producers he's spoken with recently have mentioned a drop in volume for this year.
Related Link: Starbucks To Increase Locations That Serve Alcohol
"From places like Piedmont to Chianti, (14 percent) sounds like a reasonable estimate," he said. "From what I was told, there was large 'green harvest' that contributed to the lower volume."
A green harvest refers to when grapes that aren't quite ripe have dropped or been harvested. This helps make room for the remaining grapes to fully ripen.
Certified wine specialist and sommelier Elizabeth Schneider thinks the association's estimate might be a little high. Schneider is the owner of Wine For Normal People, a wine education and media company.
Great news for #Bordeaux. I hope Italy, who is in a horrible situation bc of weather, has the same good luck. #wine http://t.co/icNfgxjUsp

— Elizabeth Schneider (@NormalWine) September 16, 2014
She told Benzinga that the vintage is not great in Italy this year, but 14 percent is a lot of volume.
"There is a 'chicken little' syndrome going on here," she said. "It's still too early in most regions to determine the size of the vintage. If conditions dry out, the grapes could bounce back, and the vintage will be small, but not anemic."
Schneider predicts the decrease in harvest will be closer to 10 percent.
France Takes The Top Spot
Globally, this means that France will overtake Spain and Italy as the world's biggest winemaker, according to Bloomberg, but that's not really a big deal.
France and Italy trade off as the No. 1 and No. 2 largest wine producers every year, Schneider said, so France taking the top spot is not surprising at all. She said that even though Spain has the largest vineyard area, it still isn't the largest producer.
Because the wine output is weather dependent, Vias Imports founder Fabrizio Pedrolli told Benzinga, there is no guarantee that production from France or any other country will remain the same year to year, or that its place on top won't be affected in the future by adverse weather conditions in their region.
Quality Over Quantity
As of early September, Reyes said, the quality of the grapes remains speculative in most northern regions of Italy. While most of the growing season was cold and rainy, his contact in Piedmont said September has been sunny so far.
Related Link: 3 Commodities You Should Watch, According to Mike Seery
"They hope that continues, because vineyards haven't gotten a chance to fully ripen, even with green harvests earlier," Reyes said.
Pedrolli said that there will be less overall quantity coming from vineyards to guarantee a good level of quality. When wine-makers experience a bout of bad weather, they sacrifice some quantity through green harvests so that they can get better quality out of the grapes that are left.
"On the positive side, the quality of what remains could be very high," Schneider said. "Sometimes, the hardiest grapes make the best wines."
How Importers And Consumers Will Be Affected
Schneider said that Italian-reliant importers like Banfi Wines, Vias Imports and Palm Bay International will find that imports from the huge wine-making regions where production looks to be down like Veneto, Sicily and Puglia are going to be scarce and more expensive.
"From both a wine availability standpoint and a pricing standpoint, when a vintage is 'tight' or supply is limited, importers feel the pain," she said.
Consumers might also feel the pain, because the distinctive flavor of Italian wines comes from the combination of the grapes, land and everything that goes into the vineyards, Schneider said.
"You'll never find a wine from anywhere else with the orange peel, red cherry, acidic nature of Chianti Classico or the floral notes and soft texture of a Arneis from Piedmont," she said. "The grapes don't do well elsewhere, so if you can't find your favorite Italian, you may just have to buy older vintages of it."
Posted-In: global wine industry Wine industry forecast Wine productionCommodities Top Stories Markets Best of Benzinga
View Comments and Join the Discussion!