4 Companies That Could Benefit From Boosted Interest In Geothermal Power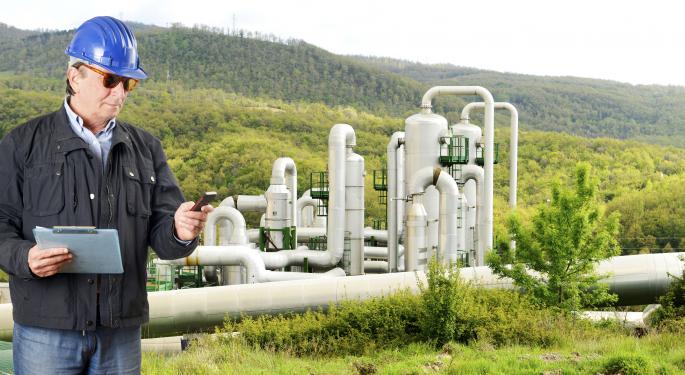 While investors have been focused on alternative energy sources such as wind, water and solar power, there's another renewable source that's been relatively ignored.
Geothermal power, converting heat stored in the earth's crust into energy, is still a widely untapped resource in the U.S. -– more than 3,000 megawatts of geothermal power are reportedly up and running.
An MIT study, however, found development of enhanced geothermal systems (EGS) could provide the U.S. 100,000 megawatts of electric-generating capacity by 2050 –- or enough energy to power about 100 million homes.
Related Link: 4 Auto Companies Using 3D Printing
Many energy companies are already devoting substantial resources to EGS. Here are four that could really benefit from boosted interest in geothermal power.
Toshiba International
Toshiba International is a Texas-based subsidiary of Toshiba (OTC: TOSBF) and has a significant international market share of geothermal products as well as turbine/generator technology development. It also specializes in geothermal steam path retrofits.
Calpine (NYSE: CPN)
Houston-based Calpine was founded in 1984 and currently delivers up to 26,000 megawatts of "clean, reliable electricity" in 17 states and Canada. Calpine has 87 power plants in operation or under construction.
Calpine's generating capacity includes geothermal power plants in The Geysers region of northern California, which represents about 25 percent of that state's renewable energy production. The company also began a $200 million program in 2007 to enhance geothermal production at The Geysers by up to 80 megawatts.
Ormat Technologies (NYSE: ORA)
Ormat describes itself as the "only vertically-integrated provider of geothermal and recovered energy-based equipment, services and power." The Reno, Nevada-based group also designs and manufactures most of the equipment used in its plants.
The company owns over 77 U.S. patents, and has operations in the U.S., Guatemala and Kenya –- with a current net generating portfolio of 626 megawatts.
Cyrq Energy
A renewable energy company, Utah-based Cyrq Energy says its primary focus is on geothermal power development. The company has one operating geothermal power plant in southern Utah, and reportedly has "geothermal interests in various stages of development in New Mexico, Utah, Oregon, Nevada and Indonesia."
View Comments and Join the Discussion!
Posted-In: Alternative Energy geothermal geothermal power Solar Power wind powerCommodities Markets Tech Best of Benzinga