Recent Temperature Drops Send Natural Gas to 2½-Year High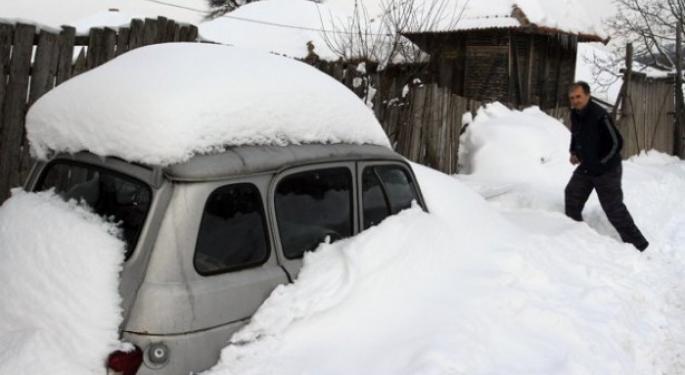 Natural gas prices spiked to a three-and-a-half year high on Friday as a surge in demand for the heating fuel and extent of the extreme cold spell across much of the country has led to concerns about whether there will be ample U.S. supplies to last through this winter. It's no surprise that n

atural gas futures have now rallied more than 5 percent in each of the past three trading days and have gained nearly 20 percent so far this year. Meanwhile, cash prices for natural gas in the Northeast hit record levels this week - topping $135 in the New York and New Jersey area -- due to pipeline issues.
Higher natural gas prices are also leading to sharply higher wholesale electricity prices as power utilities snap up gas at almost any price to run power plants to meet higher-than-normal winter demand. Sources like The Wall Street Journal say that...
"Natural gas for February delivery rose 7.4 cents, or 1.7%, to $4.401 a million British thermal units on the New York Mercantile Exchange. Prices rose 6.7%, or 27.3 cents, last week and posted their largest weekly dollar gain in roughly 14 months, bolstered by government data, which showed a record gas supply withdrawal and expectations of another arctic blast."
Consumers who rely on natural gas to heat their homes may not suffer as much though. That's because many big utilities are able to hedge natural gas prices by purchasing futures contracts.
Natural gas prices have been depressed over the past few years thanks to a supply glut and relatively mild winter weather. But supplies have tightened a bit recently and some analysts expect prices to move higher throughout the winter.
"It's only the third week of January and we could be looking at six more weeks of demand," said Schork. "That's a lot of gas and the market is rallying accordingly."
The price of natural gas delivered to New York City and the mid-Atlantic states soared to a record high on Tuesday, as a snowstorm brought freezing temperatures to the Northeast U.S., and traders worried about a potential drop in supplies of the heating fuel.
"You should expect greater demand for natural gas to heat homes and office buildings, as an Arctic blast brings snow to the East Coast. The National Weather Service projects "moderate to heavy snow from the central Appalachians to New England" over the next two days."
- Shift Insurance, rep James W.
The surge in prices for the second time this month underscores concerns about the infrastructure needed to transport natural gas from booming shale fields to densely populated areas when the heating fuel is needed.

Weather forecasts indicate that the severe cold that is blanketing much of the country will stretch into the first part of next month. Heating demand is already as much as five times higher than normal for this time of year, according to some reports. Traders say production "freeze-offs" at drilling sites, pipeline disruptions, delivery issues and a resulting "panic" in the cash market has provided a considerable boost to natural gas futures.
The market continues to factor in strong seasonal demand and rapidly shrinking inventories, which have spurred concerns of very tight supplies come the end of withdrawal season," wrote Addison Armstrong, senior director of market research at Tradition Energy in Stamford, Conn., in a note to clients. Weekly withdrawals of natural gas inventories have hit record levels in recent weeks. Armstrong, who predicts natural gas futures will average $4.10 this year, estimates natural gas supplies will end this winter season at a five-year low, between 1.1 trillion and 1.4 trillion cubic feet.
The EIA on Thursday said crude inventories climbed 1 million barrels for the week ended Jan. 17, marking the first gain in eight weeks. The market was expecting a decline, but the increase came in below the weekly jump of 4.9 million barrels reported by the American Petrolium Institute
.
I say keep your eye on natural gas for the next few weeks.
The preceding article is from one of our external contributors. It does not represent the opinion of Benzinga and has not been edited.
Posted-In: Commodities Markets Trading Ideas
View Comments and Join the Discussion!