This Resilient Commodity to Ready for a Big Comeback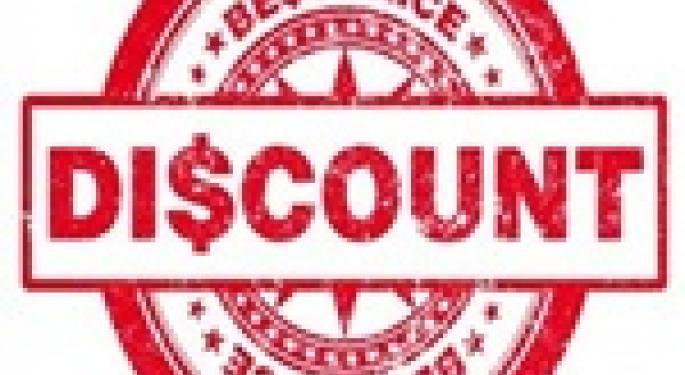 On goes the government impasse. In fact, it could last a few more days leading up to the debt ceiling deadline next Thursday. In my opinion, it's only going to get uglier from here.
While I could continue to discuss the politicking in Washington, I'm going to take a break. Well, kind of. With 800,000 federal workers without any pay, it's going to be tough.
But people still have to eat and survive in spite of the lack of a paycheck—and of course, investors are still looking to profit in spite of the U.S. government shutdown.
A sector I feel will benefit from the impasse is the discount retail sector. With less money to spend, it wouldn't be a surprise to see many of those 800,000 workers look for cheaper digs to buy goods and services, which is where the discount retail sector comes in.
Heck, I even think the discount retail sector, which did really well coming out of the 2008 recession, will continue to do well even after the government impasse, as people will still have a tendency to gravitate to bargains, especially in a market of uncertainties.
At the top of my list is Wal-Mart Stores, Inc. (NYSE: WMT), which continues to be the "Best of Breed" in the discount retail sector.
Aside from Wal-Mart, when it comes to big-box stores, there's also Costco Wholesale Corporation (NASDAQ: COST), which may be another strong play in the discount retail sector.
On a smaller scale, take a look at Dollar General Corporation (NYSE: DG), with over 10,800 stores spread across 40 states as of August 2, 2013. Unlike Wal-Mart and Costco, Dollar General is much more price-conscious, selling goods at prices of up to a few dollars.
Chart courtesy of www.StockCharts.com
Dollar General has beaten the Thomson Financial consensus earnings-per-share (EPS) estimate in four straight quarters and shows decent revenue growth going forward. Revenues are estimated to run up 10.7% to $17.73 billion for fiscal 2014 (ending in January), followed by another 10.0% to $19.51 billion in fiscal 2015, according to Thomson Financial. Dollar General's growth metrics are superior to those of both Wal-Mart and Costco in the discount retail sector, making it a good stock to add to your radar.
On the mid-cap discount retail sector side, my favorite is PriceSmart, Inc. (NASDAQ: PSMT), a discount retailer with a focus on the Caribbean. PriceSmart's growth metrics are also superior to both Wal-Mart and Costco's.
Chart courtesy of www.StockCharts.com
Should the two political parties in Washington continue to squabble, with each passing day, many of the workers told to stay home will need to budget and spend wisely—that will mean trips to the discounters. So throughout the remainder of the government shutdown (however long that will be) and in a market still full of uncertainties thereafter, you may want to add some stocks from the discount retail sector to your radar.
This article This Market Sector Ripe with Investment Opportunities as U.S. Government Shutdown Continues was originally published at Investment Contrarians
The preceding article is from one of our external contributors. It does not represent the opinion of Benzinga and has not been edited.
Posted-In: Commodities Markets Trading Ideas
View Comments and Join the Discussion!