Heritage Oil & Gas Boosts Domestic Oil Production via Stripper Wells
The life span of an oil well is an often misunderstood concept to the public. This misjudgment causes many to develop a view that works against future American energy solutions. Current energy challenges require balanced solutions. While technologies are developed to improve renewable energy sources, it is essential to grasp the transitory role fossil fuels play in stabilizing our economy. Therefore, oil wells, are still vital to the economic growth of the country. Heritage Oil & Gas is serving a critical part in providing domestic petroleum products by utilizing modern technology to recovery oil from wells misconceived as dry.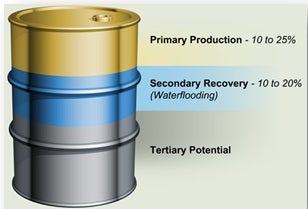 Each oil well has three stages of production: primary, secondary, and tertiary. During the initial or primary phase, the Earth's natural pressure found in the oil reservoir is used to force the oil towards the surface for collection. The primary stage represents the easiest way to extract oil and after the stage is completed many mistake the source as depleted or non-profitable. However, secondary and tertiary oil recovery comprises the majority of an oil well's reservoir.
Stripper wells account for nearly 20% of all U.S. oil production.
Concerning the profitability of wells during their later stage, CEO of Heritage Paul Henley states, "Our processes for mining stripper wells is a technological breakthrough in oil production because the wells in Texas alone have more oil than we ever expected."
Heritage's Strategy Aids Energy Conservation and Ecology
Instead of drilling into new areas, which can have a harmful effect upon nature, Heritage seeks to use wells that have been located to their maximum benefit. By using new extracts techniques and technology, Heritage is making strides in using domestically located oil reservoirs safely and efficiently. To date, stripper wells account for nearly 20% of all U.S. oil production. Last year's U.S. oil production lead all countries grossing over 1 million barrels per day. Heritage is proud to be a part in American oil economic boost in socially and environmentally responsible ways.
The following article is from one of our external contributors. It does not represent the opinion of Benzinga and has not been edited.
Posted-In: Commodities Markets
View Comments and Join the Discussion!