Physical Gold Bullion Charged Large Premiums as Demand Increases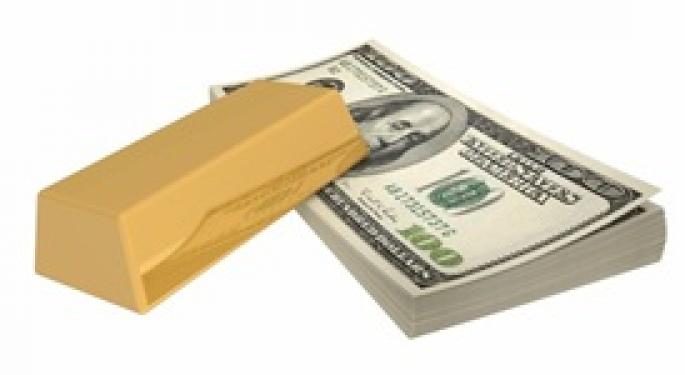 By Sasha Cekerevac for Investment Contrarians
An investment strategy can take many forms. For long-term investors, one investment strategy is to wait for significant pullbacks and enter positions when the price declines.
The recent sell-off in gold bullion has created a substantial increase in demand for the precious metal around the world. It appears that many long-term investors globally are using the investment strategy of buying on dips when it comes to gold.
Following the biggest sell-off in the price of gold bullion in 30 years, international investors are taking the pullback as an opportunity in their investment strategy to accumulate the metal. A sign of demand is the premium that gold buyers are willing to pay.
In many parts of the world, such as Dubai, physical gold bullion prices paid by wholesalers are trading at a premium of $6.00–$9.00 an ounce over the spot rate in London, versus a premium of only $0.50 prior to the sell-off, according to precious metals service provider MKS (Switzerland) SA. (Source: Sim, G., "Gold Rush From Dubai to Turkey Saps Supply as Premiums Jump," Bloomberg, April 30, 2013, last accessed May 3, 2013.)
The gold bullion trade in Dubai was worth approximately $56.0 billion in 2011, up from only $6.0 billion in 2003. The premium for physical gold is even larger in Turkey. Gold traded as much as $25.00 per ounce higher on the Istanbul Gold Exchange versus London's price for gold.
The increase in demand for physical gold bullion is a sign that many long-term holders have the investment strategy of buying when the price dips. Considering that the recent sell-off in gold was so significant, long-term bulls might consider the fact that buyers are accumulating large quantities of physical gold as a sign of a price support.
Take a look at the stock chart for gold spot prices below: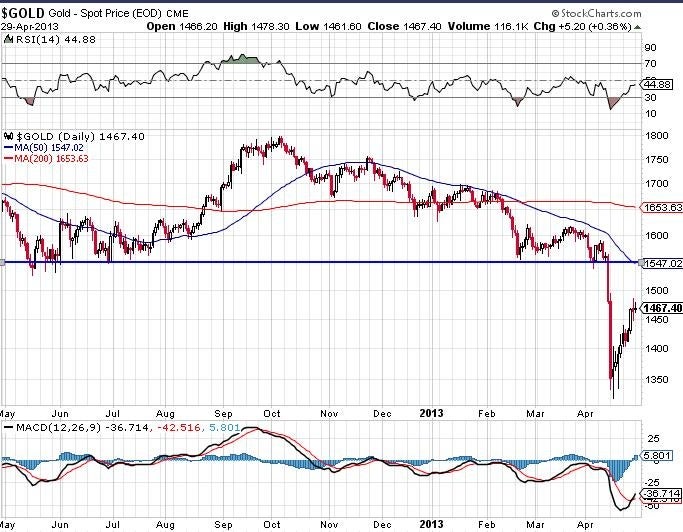 Following the sell-off, gold bullion entered oversold territory as indicated by the relative strength index (RSI). However, one cannot base an investment strategy solely on the RSI, since a market could be oversold or overbought for a prolonged period of time. In late February, gold also showed signs of being oversold, which, as we all know now, were followed with further selling pressure.
At this point, it is a battle between two types of investment strategy: large investors who are selling gold and the retail public who are buying gold. Is there enough demand to overcome the massive level of supply being sold into the market? Obviously, the future is unpredictable, but if the physical buying of gold bullion is any indication of potential future price moves, one could say that the recent sell-off to $1,350 an ounce for gold might be a floor, at least over the short term.
This Article Physical Gold Bullion Charged Large Premiums as Demand Increases was originally published at Investment Contrarians
The following article is from one of our external contributors. It does not represent the opinion of Benzinga and has not been edited.
Posted-In: Commodities Markets Trading Ideas
View Comments and Join the Discussion!