The Diamond Engagement Ring: Necessary Expense Or High Value Investment?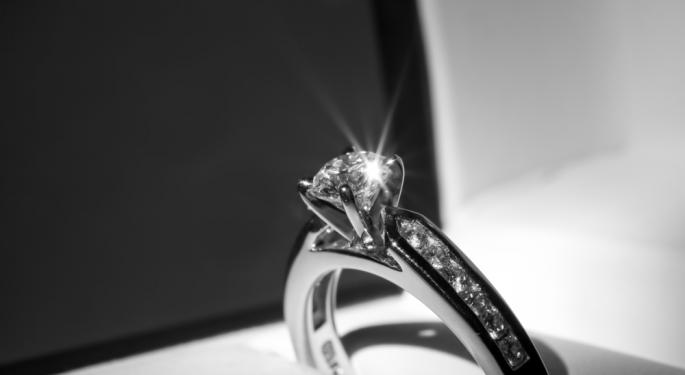 It's the most romantic time of the year. Between kisses under the mistletoe, toasty dinners by the fireplace and the long-held tradition of locking lips at midnight on New Year's -- the holidays are a great time to be in love.
For some couples, this season will mark taking their relationship to the next step-- the "will you marry me?" step. New Year's tends to make people think very seriously about their goals and priorities, so it's a perfect time to pop the question.
Indeed, Fairchild Bridal Group reports that 19 percent of all engagements happen in December--the most popular month by a significant margin.
Benzinga readers are savvy investors, and for many, the prospect of buying a diamond ring begs the question: is it a good investment? Of course giving a diamond ring cannot be seen as a financial investment -- it is a sign of eternal love that is never meant to be sold. Given to the right mate, a ring is the only investment that can pay an infinite return.
But there are certainly some folks who still wonder -- will the shiny rock's value increase?
Buying diamond jewelry as an investment is not generally considered to be wise, but global trends suggest that a girl's best friend may produce positive returns. The rise of a new middle class in emerging markets like China and India will introduce a whole new segment of buyers to the diamond market. A recent report from the consulting firm Bain & Company predicted that global diamond consumption will jump from its 2011 level of $15.6 billion to $26.1 billion by 2020.
There are significant downsides to investing in diamonds, however. De Beers is a privately held family of companies that has a monopoly on the diamond market. Its control over the marketplace renders diamond prices at the whims of a cartel more so than market factors. There is also no clear-cut market for previously diamonds -- negotiating with individual jewelers or pawn shops will typically leave sellers with an offer that is far below retail price tags.
Diamonds may be a good investment for anyone who would like to stay prepared for a doomsday or refugee scenario, as their small size allows them to be smuggled or hidden easily.
Ultimately, investors who want exposure to the increased demand for precious gems are likely better suited to consider diamond-sellers like Harry Winston Diamond Corporation (NYSE: HWD) Tiffany & Co. (NYSE: TIF), Blue Nile (NASDAQ: NILE), and Signet Group (NYSE: SIG) or a new ETF, the PureFunds ISE Diamond/Gemstone ETF (NYSE: GEMS).
Posted-In: Commodities Markets Trading Ideas Best of Benzinga
View Comments and Join the Discussion!