Jushi Co-Founder: COVID-19 Is Causing A Shift From The Illegal Cannabis Market To The Legal One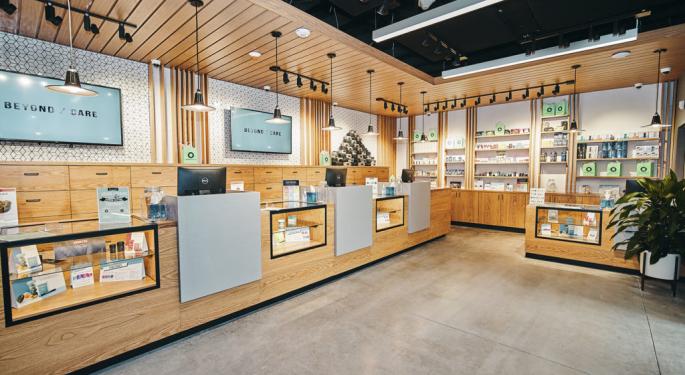 The sustained cannabis buying activity many states reported this summer is now showing up in the bottom lines of companies. Multi-state cannabis and hemp operator Jushi Holdings (Pink: JUSHF), who reported Q2 earnings last week, is the latest example.
Financial Highlights
Jushi reported Q2 revenue of $14.9 million, up 73% quarter-over-quarter and over 6500% year-over-year. Earnings per share also increased, to $(0.10) from $(0.17) a year ago.
In terms of forward-looking statements, the company provided Q3 revenue guidance of $22-25 million and expects adjusted EBITDA "to be close to breakeven."
Previously issued revenue guidance of $25-30 million for Q4 and $200-250 million for FY2021 were both reaffirmed. The company expects adjusted EBITDA between $40-50 million for next year as well.
Jushi also announced a preliminary short form shelf prospectus, which will allow them to offer up to C$200 million subscription receipts, debt securities, convertible securities, warrants, subordinate voting shares, and units over the next two years.
Themes Of The Quarter
Jushi extensively extended its presence in Pennsylvania during the second quarter. The company opened two more BEYOND/HELLO retail locations, bringing its total in the state to 10. It also closed a pair of acquisitions—Pennsylvania Medical Solutions, a grower-processor permit holder, and Agape Total Health, a Pennsylvania medical marijuana dispensary permit holder.
The company, which has its core operations in Pennsylvania, Virginia, and Illinois, cited these developments as major revenue drivers during the quarter.
"Over the quarter we started to get some operational efficiencies in place, and so that really did drive up some of the revenues," said Jushi Co-Founder and Co-President Erich Mauff.
The Impact Of COVID-19
Mauff cited the COVID-19 pandemic as being a major factor in a variety of ways.
He believes that the combination of dispensaries being deemed essential businesses and the temporary closure of the U.S.-Mexico border as a result of the pandemic may have caused consumers who would normally have purchased cannabis on the black market to consider legal options.
"I think what you're really seeing is people looking to the regulated market," he said. "I think the unregulated market has had a harder time being as efficient as it's historically been because of COVID. Once you actually come into a regulated dispensary that's well run, I think it's more difficult to go back."
He also attributed part of the quarter's growth to the shift in e-commerce sales. According to Mauff, roughly 75% of Jushi customers either place their order online or have decided what they want to buy online before going to a dispensary.
"That's a very big change of habits in my view," he said.
There was a slight "pull forward" in revenue early in the quarter, as some consumers stocked up in March and April amidst uncertainty of whether dispensaries would remain open. But Mauff says sales have rebounded to more normalized levels in recent months.
Upcoming Catalysts
With distressed assets littering the industry, Mauff said they will continue to look for M&A opportunities.
"We are piling through those assets day in and day out to find the ones that we think fit us and find the ones we think we can buy. Just because something is broken doesn't mean it is a good buy."
He also specifically cited COVID-19 as being a potential driver for the company and industry at large going forward.
"The next two quarters, I would anticipate as COVID becomes more manageable we will be able to get more people through stores per hour. I think that's going to be a very positive catalyst for sales.
"The number of people just deciding to go into the adult-use market or getting a card and going into the medical market is just continuing to pick up. I don't see that changing. I think once we get that person into our store once, I think it's hard to go back to the unregulated market."
Image: Beyond/Hello
View Comments and Join the Discussion!
Posted-In: Covid-19 Erich MauffCannabis Earnings News Penny Stocks Guidance Markets