What Isiah Thomas, John Salley And Al Harrington Have In Common (Hint: It's Not Basketball)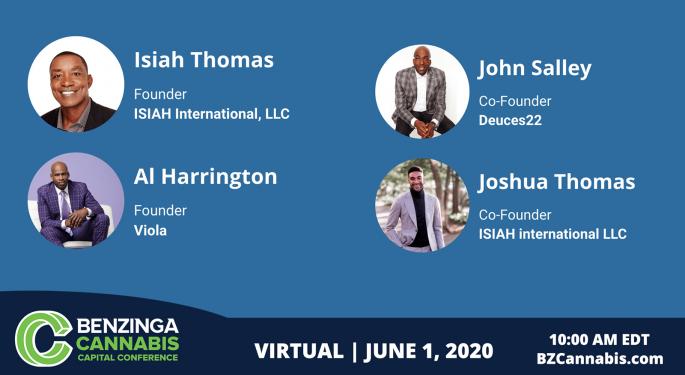 Wonder what Isiah Thomas, John Salley and Al Harrington have in common?
Well, I mean, other than basketball.
It's cannabis!
Surprised?
Learn all about why they like this magic plant, and how they are getting into the cannabis business next Monday, June 1, at the Virtual Benzinga Cannabis Capital Conference.
Harrington, Salley, Isiah Thomas and Joshua Thomas will be sitting on a panel moderated by Yahoo Finance reporter Alexis Keenan.
Big In Business
Thomas has kept busy in recent months, especially in the cannabis space. Just this year, the Chicago native announced he was teaming up with CBD company VESL Oils.
"It was important for me to work with a company that uses only all-natural ingredients, follows regulations, and promotes significant benefits to the human body, both physically and mentally," Thomas said in February. "My mission was to invest my resources and business expertise in a growing and innovative company that produces the highest quality product, with the potential to be a leader in the market."
For his part, Salley has been active in the cannabis space for a while. Over the last couple years, he started his own company Deuces22, and even launched a heath insurance product for cannabis, hemp and CBD businesses, which are usually over-charged by major insurance providers in North America.
Related story: Pistons 'Bad Boy' John Salley Talks 'The Last Dance' And His Relationship With Michael Jordan
Harrington is a household name in the cannabis industry, having co-founded Viola Brands, and being consistently involved in all kinds of social justice causes.
During a recent Q&A he did with Benzinga's Patrick Lane and Jason Raznick, Harrington blasted California's social equity program as a "disaster" and promised to wield his celebrity to promote marijuana reform and help people of color launch cannabis businesses.
"I can spend $4 million of my own money without investors ... and I still have an issue raising money," he said. Most people are at a disadvantage because they can't access the typical financing channels that small businesses or entrepreneurs in other industries are able to utilize, he explained at the time.
"Think about the regular mom who works 9 to 5 and has a cool edible [idea]," he added.
Harrington's startup is backed by Gotham Green Partners. The company recently purchased a 34,500-square-foot cultivation, processing and distribution facility in Adelanto, California.
It also completed a deal for a 48,000-square-foot facility in Detroit.
Viola produces a range of cannabis products that are available in Colorado, Oregon, Michigan and California.
The brand is named after and inspired by Harrington's grandmother, who suffers from glaucoma and diabetes and was able to alleviate the symptoms only after switching from prescription pills to cannabis remedies, he said.
"She looked at me and said 'Al, I'm healed. I haven't been able to read the words in my bible in over three years.'" Harrington recalled in the interview. "I remember arriving to [a] game in disbelief, wanting to know more. That's what started me on my journey."
View Comments and Join the Discussion!