Premier Fintech Digital Media Platform, Leading Cannabis Big Data Shop Team Up To Bring Data-Backed Expertise To Legal Cannabis Markets Worldwide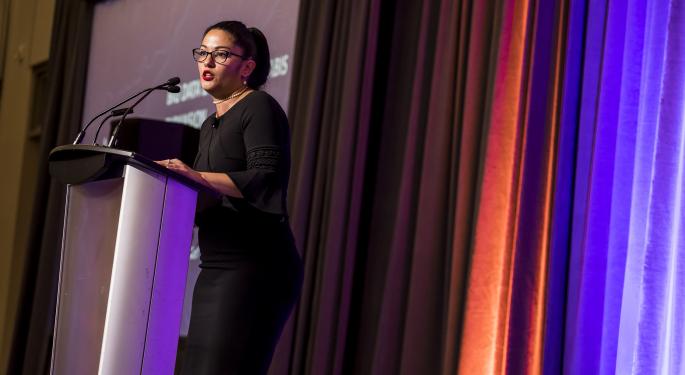 Benzinga and New Frontier Data to host cannabis investor forum on Latin American opportunities in Miami January 2019
Benzinga, a leading financial media outlet, announced today that it will host the second Cannabis Capital Conference presented by New Frontier Data in Miami January 15-16, 2019.
The Benzinga Cannabis Capital Conference is the premier gathering of cannabis entrepreneurs and investors in North America. No other conference offers the level of access and seamlessness of interaction between entrepreneurs building future billion-dollar cannabis enterprises and the investors whose capital will make that happen.
"We are excited to host this first-of-its-kind forum," said Giadha Aguirre de Carcer, founder and CEO of New Frontier Data. "As Mexico, Argentina, Brazil and other nations make material moves both domestically and regionally, established North American cannabis companies should pay attention and begin responsible and open conversations to ensure the now global legal cannabis market evolves in a healthy and transparent manner.
"The partnership between New Frontier Data and Benzinga keeps investors and operators informed with access to real-time data and targeted regional events like the Cannabis Capital Conference, which aim to accelerate the growth of the multi-billion-dollar fintech and legal cannabis industries," said Aguirre de Carcer.
The first Benzinga Cannabis Capital Conference offered entrepreneurs and investors an incredible opportunity to network, make deals, and learn from influencers, policymakers and trailblazers. The event sold out with 600 attendees and saw top cannabis CEOs like Aphria's Vic Neufeld and others address the future of the industry.
Leading investors like CNBC's Tim Seymour, Jon Najarian, New Cannabis Ventures founder Alan Brochstein and Moses Ventures managing member Danny Moses will speak about topics like the latest opportunities for investment in cannabis alongside top cannabis CEOs.
Benzinga is the go-to source for investors who need the latest news in the cannabis sector, and frequently breaks exclusive coverage on celebrity cannabis entrepreneurs and commentary from leading political and business figures.
Tickets for the event are on-sale and going fast. Entrepreneurs and those interested in investing in cannabis can purchase tickets here. Investors can qualify for free passes by emailing bzcannabis@benzinga.com.
About New Frontier Data:
New Frontier Data is an independent, technology-driven analytics company specializing in the cannabis industry. It offers vetted data, actionable business intelligence and risk management solutions for investors, operators, researchers and policymakers. New Frontier Data's reports and data have been cited in over 69 countries around the world to inform industry leaders. Founded in 2014, New Frontier Data is headquartered in Washington, D.C. with additional offices in Denver, CO, London, UK, Bogota, Colombia, and Hong Kong.
New Frontier Data does not take a position on the merits of cannabis legalization. Rather, its mission and mandate are to inform cannabis-related policy and business decisions through rigorous, issue-neutral and comprehensive analysis of the legal cannabis industry worldwide. For more information about New Frontier Data please visit: http://www.NewFrontierData.com.
About Benzinga
Benzinga is a leading originator of actionable financial insights for traders and investors. Benzinga's news desk is constantly breaking stories and moving billions of dollars of market capitalization through its real-time terminal, Benzinga Pro. Benzinga's original content is syndicated to 70 partner websites, such as Yahoo! Finance MSN, CNNMoney, Fox Business, Marketwatch, and more. Benzinga is the leading provider of news to the North American brokerage community, with a client list including TD Ameritrade (AMTD), LightSpeed, TradeKing, and many more. The company is headquartered in downtown Detroit and dedicated to driving Detroit's renaissance.
Posted-In: Benzinga Cannabis Capital Conference Giadha Aguirre De Carcer New Frontier DataCannabis Fintech Markets
View Comments and Join the Discussion!