What A Yield Curve Inversion Means For Traders
U.S. investors received a red flag Monday when the yield on five-year Treasury notes dipped below the yield on three-year and two-year Treasury notes for the first time since 2007. This yield curve inversion is often a sign of an imminent economic recession, so here's a look at what the latest bond market developments mean for investors.
What Is An Inverted Yield Curve?
The yield curve is a plot of the yields of bonds with equal credit quality but different maturity dates. For U.S. investors, the most commonly referenced yield curve is a plot of 2-year and 10-year Treasury yields, which have yet to invert at this point.
A typical yield curve includes much higher interest rates for maturities further into the future. In a flat yield curve, there's little difference between short-term yields and long-term yields. Sometimes, yield curves can become inverted, a scenario in which short-term yields are higher than long-term yields. Inverted yield curves have historically occurred during periods of economic recession.
Historical Trends
The bad news for investors is that inverted yield curves have preceded each of the past nine U.S. recessions. The good news is they're far leading indicators, meaning a recession is likely not imminent.
According to the San Francisco Fed, each of the nine U.S. recessions that have occurred since 1955 came between six months and 24 months after a an inversion in the yield curve of two-year and 10-year Treasury yields.
Looking Ahead
On Monday, the difference between the two-year and 10-year Treasury yields dropped to just 0.15 percent, its lowest level since prior to the last U.S. recession. If the trend in the graph below continues, there could be a two-year/10-year yield curve inversion by the end of 2018.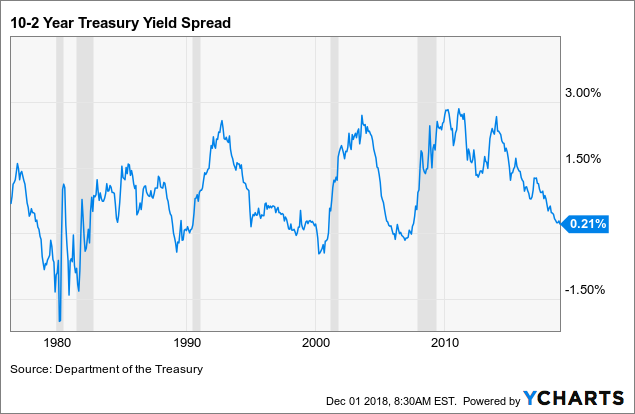 If that inversion happens, investors should prepare for a potential U.S. recession as soon as mid-2019. Morgan Stanley recently forecast about a 50-percent chance of a mild "earnings recession" in 2019, which is defined as two consecutive quarters of year-over-year declines in S&P 500 earnings.
The SPDR S&P 500 ETF Trust (NYSE: SPY) dropped marginally Tuesday morning, while the iShares Barclays 20+ Yr Treas.Bond (NYSE: TLT) was up about 1.2 percent.
Related Links:
'We Expect Another Rangebound Year': Morgan Stanley's 2019 Investing Outlook
View Comments and Join the Discussion!
Posted-In: Bonds Education Short Ideas Top Stories Economics Markets Trading Ideas General Best of Benzinga