UK Retail Sales Are In A Long-term Slowdown Hammered By Inflation
The UK retail sales rose mere 0.1 percent over the month in January after disappointing -1.5 percent m/m drop in December. While looking at the retail sales in the on a quarterly basis, the retail sales rose also 0.1 percent during the last three months contributing nothing to the GDP growth.
The UK consumers are increasingly hammered by inflation that rose 3.0 percent y/y in January while nominal wage growth remains at 2.5 percent y/y. This means that the real, inflation-adjusted wages are negative with the prices rising faster than wages weighing on consumers willingness to shop. The Office for National Statistics said the longer-term trend for retail sales is a "continued slowdown" as on the three months moving average basis the retail sales decelerated to 1.5 percent compared with January 2017, down from rates above 4 percent a year ago.
Looking at the broader picture of the UK economy, the outlook for the interest rates remains slightly more optimistic with the Bank of England providing an exceptionally hawkish outlook for interest rate hikes in its February Inflation report. The Bank of England seems to have factored in the current trend of retail sales weighing on the economic activity as it kept the growth outlook broadly unchanged. On the other hand, the outlook for inflation has been lower substantially for the near-term, providing the scope for the interest rate hike optimism.
CPI inflation is projected to fall back gradually over the forecast period although it is expected to remain above the Bank of England 2 percent inflation target in 2019 and 2020.
Taking to account improved inflation forecast the Bank of England now expects that "monetary policy would need to be tightened somewhat earlier and by a somewhat greater extent over the forecast period than anticipated at the time of the November Report, in order to return inflation sustainably to the target."
With retail sales subdued and growth outlook at it maximum, but remaining low driven by labor market tightness, the wage growth becomes a decisive factor of future policy outlook, with chances for the rate hike in May 50-50 for now.
UK retail sales and retail prices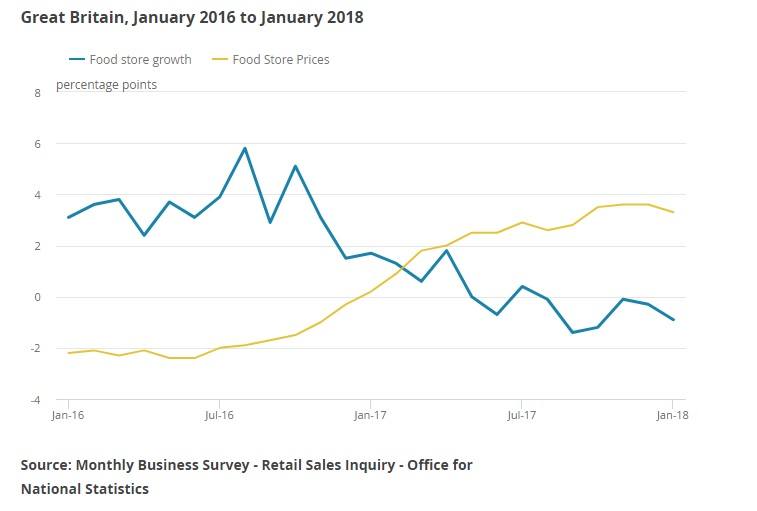 View Comments and Join the Discussion!