How Everyday Americans Could Finance A National Infrastructure Renovation - And Make Money Doing So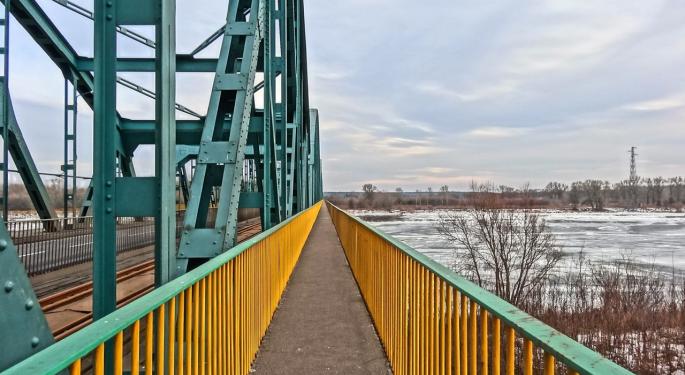 A pair of Democratic congressmen have proposed creative ways to help fund the U.S. critical need for infrastructure investment.
Democratic Congressman John Delaney of Maryland and Republican Congressman Rodney Davis of Illinois have proposed the Partnership to Build America Act.
The bill would give American companies with large amounts of cash stored overseas the opportunity to repatriate that cash by buying special bonds. For every $1 in 50-year bonds a company buys, it would be able to repatriate $1 in overseas cash tax-free.
President Donald Trump has proposed a one-time repatriation holiday allowing companies to bring cash back into the country at a discounted tax rate of 10 percent.
'Invest In America Bonds'
In addition to Delaney's plan, Democratic Congressman Peter DeFazio of Oregon has proposed an infrastructure funding plan that involves selling 30-year U.S. Treasury Bonds called "Invest in America Bonds" to fund much-needed infrastructure projects. The bonds would currently pay out investors an annualized rate of 3.6 percent.
The idea of making budget ends meet by selling bonds that appeal to Americans' sense of patriotism is certainly not a new concept. Back in World War I and World War II, the U.S. government sold war bonds to help finance the war efforts.
Following the September 11 terrorist attacks, the Treasury renamed Series EE savings bonds "Patriot Bonds" and told buyers that investing in these bonds was a way to help fund the efforts to fight terrorism and express support for the victims' families.
According to Height Securities, even if the idea of Invest in America Bonds is a winning idea, the plan's chances of approval are slim due to partisan politics.
"This bill has only Democratic sponsors and is unlikely to move but it is a creative idea intended to jumpstart the conversation around infrastructure, which has obviously taken a backseat to other matters such as the ACA repeal-and-replace effort," Height said.
Investors who are looking to invest in the companies that will likely be playing a central role in America's infrastructure investment may want to consider the iShares S&P Global Infrastructure Index (NYSE: IGF).
Related Link:
Why Apple Is The Biggest Winner Of Trump's Infrastructure Plan
Posted-In: Height Securities Invest in America BondsBonds Politics Top Stories Markets Personal Finance General Best of Benzinga
View Comments and Join the Discussion!