Treasury And Mortgage Bond ETFs Hit New Highs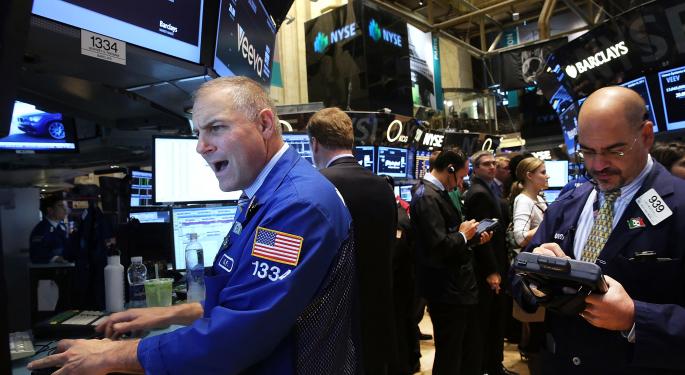 The selloff in stocks has erased all of the gains on Wall Street this year as the S&P 500 Index dipped into the red for 2014.
In just a few short weeks, sellers have taken control of the momentum in equities and significantly altered the tone of the markets.
As a result of fear overtaking stocks, investors have been fleeing for another asset class that has shown tremendous resilience in the face of adversity.
Treasury and mortgage-related ETFs have been the recipients of a flight to quality that has pushed bond prices to new 2014 highs. The CBOE 10-Year Treasury Note Yield fell to an intraday low of 1.868 percent on Wednesday as stocks continued their losing streak.
This marked the lowest reading for bond yields since May 2013 and contributed to gains across the board in investment grade fixed income.
Investors typically flee risk assets during times of uncertainty for safe haven securities such as credit risk-free Treasuries.
The iShares 7-10 Year Treasury Note ETF (NYSE: IEF) tracks intermediate-term Treasury bond prices and has seen more than $2.4 billion in net inflows this year.
Related Link: 3 Equity ETFs Benefiting From Low Interest Rates
IEF is now sitting on gains of more than 10 percent in 2014 and continues to show that investors are willing to forgo risk in favor of safety.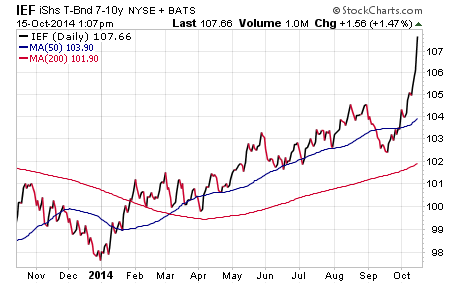 In conjunction with falling Treasury yields, mortgage-related ETFs are also rising sharply in October. The iShares MBS ETF (NYSE: MBB) tracks a wide range of U.S. denominated mortgage bonds. This includes securitized fixed income from government sponsored enterprises such as Freddie Mac, Fannie Mae and Ginnie Mae.
MBB is up more than 6 percent in 2014 and has garnered more than $1 billion in additional inflows as well.
Interest rates will certainly be a closely watched indicator through the remainder of 2014 as the Federal Reserve brings its quantitative easing efforts to an end. The strength in bond prices along with falling equity and commodity values has many concerned about the potential for deflationary effects to take hold as well.
Only time will tell if economic forces collude to push the 10-Year Treasury Note Yield down to its 2013 low of 1.65 percent, which would continue to press bonds even higher.
Posted-In: fannie mae freddie mac Ginnie Mae Interest Rates mortgageBonds Markets ETFs Best of Benzinga
View Comments and Join the Discussion!