Falling Interest Rates Boost Bond ETFs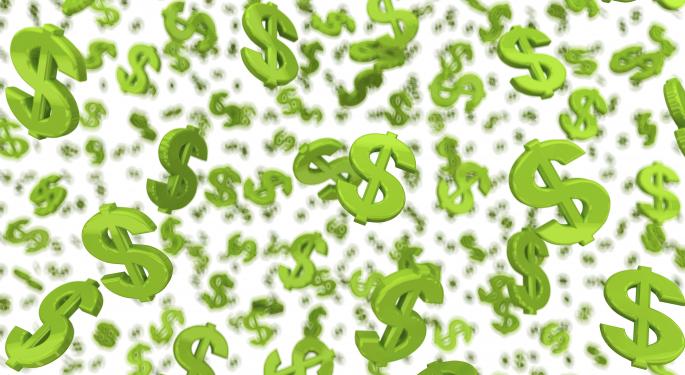 The yield on the 10-year U.S. Treasury fell to an 11-month low on Wednesday and the drop continued into Thursday -- as the yield is on the verge of breaching the 2.40 percent level.
When the word that the Fed was going to taper began to spread throughout the market, the consensus was that interest rates would rise as the Fed no longer propped up bond prices. That has not been the case.
After peaking the last day of 2013, yields on the 10-year have been in a slow and steady decline. The latest fall, however, is extremely important on a technical basis. With no clear support for the yield on the 10-year, other than a little near the 2.30 percent area, bonds could continue to rally and push the yield down to the 2.0 percent level.
Related: 4 ETFs To Help Bet On Brazil's Soccer Team (EWZ, BRF, EWZS, BRXX)
Bond prices move in the opposite direction of yields and therefore, bond ETFs have been big winners this year. The iShares 20+ Year Treasury Bond ETF (NYSE: TLT) is up 13 percent in 2014 and currently trades with a dividend yield of 3.2 percent. The iShares 7-10 Year Treasury Bond ETF (NYSE: IEF) is up just over five percent this year, and has a dividend yield of 2.1 percent.
The longer dated bonds will be more volatile, and therefore will have more dramatic gains/losses when yields are on the move -- and this is the reason TLT has outperformed IEF in 2014.
The corporate bond ETFs have also been benefiting from the fall in interest rates. The iShares iBoxx Investment Grade Corporate Bond ETF (NYSE: LQD) is a basket of U.S.-based corporate bonds that are considered investment grade. That ETF is up five percent this year, and pays out a 3.1 percent dividend yield.
The riskier corporate junk bonds have not experienced as much of a rally, but they do offer a higher dividend yield. The SPDR Barclays High Yield Bond ETF (NYSE: JNK) is up 2.5 percent in 2014 with a dividend yield of 6.6 percent.
Yields will eventually start to move higher in the future, and owners of bond ETFs must be aware of the risk. A rise in interest rates could result in losses in bond ETFs. For now, investors can ride the bond ETF wave, but should be aware it may eventually crash.
View Comments and Join the Discussion!
Posted-In: ETFs Fed Taper Interest RatesNews Bonds Treasuries Markets ETFs Best of Benzinga