ETF of the Day: Hedging Rising Interest Rates (HYHG, TLT)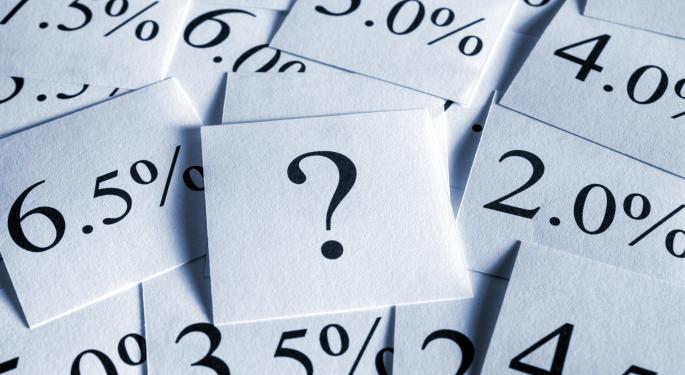 The brokerage firms are starting to release their outlooks for 2014 and the predictions of what will happen with everything from stock prices to interest rates.
When it comes to interest rates the overwhelming consensus is that rates will increase in 2014 as the Fed begins to taper its $85 billion per month asset purchases.
This should not be a big surprise to anyone that follows the market as interest rates have already increased dramatically from the 2013 low hit in May. The yield on the U.S. 10-year Treasury bond is currently 2.79 percent, up from a low of 1.62 percent on the first day of May. While the rally in the yield has been significant, historically speaking, the interest rate could continue to rise dramatically in the coming year.
See also: New Internet Boom via ETFs (FDN, SOCL, GOOG, FB, LNKD)
Before the 2007 financial bubble the yield on the 10-year was above 5.1 percent. If yields retest the pre-recession highs it could be a tough year for owners of bond ETFs.
As the interest rate on a bond increases, the value of the underlying bond falls in value. This is why shares of the iShares Barclays 20+ Year Treasury Bond ETF (NYSE: TLT) are down 16 percent from its May high. Investors that have always considered bonds as the "safe haven" better think again.
The ProShares High Yield-Interest Rate Hedged ETF (NYSE: HYHG) is an option for investors that continue to demand high income and at the same time are concerned about rising interest rates. The ETF consists of a diversified portfolio of high yield corporate bonds as well short positions in U.S. Treasury futures. The built-in interest rate hedge is created with the short position that will increase in value if interest rates rise and Treasury prices fall in value.
Since its inception on May 21, 2013, the ETF has gained 2.3 percent including the dividends that vary from month to month. During the same time frame, TLT has lost 10.2 percent, including dividends.
The ETF charges an annual net expense ratio of 0.50 percent and the current SEC 30-day yield is 4.92 percent.
With the near certainty of higher interest rates in the next year, barring any black swan events, it would be in the best interest of investors to begin looking at hedging options.
Posted-In: Bonds Specialty ETFs Markets Trading Ideas ETFs Best of Benzinga
View Comments and Join the Discussion!